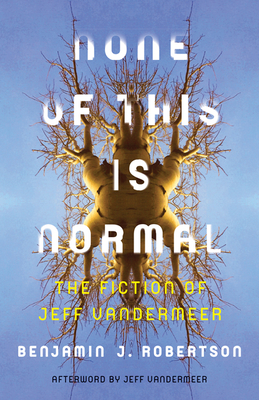 None of This Is Normal
The Fiction of Jeff VanderMeer
Paperback

* Individual store prices may vary.
Other Editions of This Title:
Hardcover (11/13/2018)
Description
How the otherworldly worlds created by the author of the Southern Reach Trilogy speak to—and even affect—our own

If ever a moment and a writer were made for each other, that time is now and Jeff VanderMeer is that writer. Reaching more and more readers as his fantastic fiction delves deeper and deeper into the true weirdness of our day, VanderMeer presents a unique opportunity to explore the cultural frictions and fault lines in today's—and tomorrow's— literary landscape. 
In the first book-length study of this provocative writer, Benjamin J. Robertson focuses on the three major series that have propelled VanderMeer to prominence (his Vennis fictions, Ambergris novels, and Southern Reach Trilogy) as well as his recent stand-alone novel Borne. Most salient for Robertson is how VanderMeer grapples with the transformation of human meaning and being in the contemporary moment. None of This Is Normal reveals how VanderMeer creates fictions that directly address our Anthropocene epoch, in which humanity must reckon with the unprecedented nature of its impact on the environment and with the consequent obsolescence of its methods of representing itself in this altered world. 
In Robertson's reading it becomes startlingly clear that certain fiction, especially when willing to abandon humanist assumptions about history, has the power to not simply show us a world "out there" but to actively participate in that world. As realist fiction and even science fiction conventionally reduce the scale and complexity of the Anthropocene to human-sized dimensions, None of This Is Normal shows how VanderMeer's work conjures what Robertson calls a "fantastic materiality": a reality that stands apart from us as a model of thinking, irreducible to our own.
Praise For None of This Is Normal: The Fiction of Jeff VanderMeer…
"None of This Is Normal is the first book-length study of the weird fiction of Jeff VanderMeer. Benjamin J. Robertson not only highlights the beauty and power of VanderMeer's fiction, but also shows how this writing is central to any attempt to think through the plight of humanity in what has come to be called the Anthropocene."—Steven Shaviro, author of The Universe of Things: On Speculative Realism
"This spirited book disturbs the new normal of the Anthropocene by way of the 'New Weird' in Jeff VanderMeer's fiction. At once a meditation on fantastic materiality and a step toward life after aftermath, this first dedicated study of VanderMeer tells a new story about humans and nonhumans both."—Wai Chee Dimock, Yale University
"None of This Is Normal offers readers a rich, extended conversation between VanderMeer and Robertson, pointing out how crucial literary texts are to theorizings of themselves." —American Literary History
Univ Of Minnesota Press, 9781517902933, 208pp.
Publication Date: November 13, 2018
About the Author
Benjamin J. Robertson is assistant professor of English at the University of Colorado Boulder and coeditor of The Johns Hopkins Guide to Digital Media.
Jeff VanderMeer is author of the best-selling Southern Reach Trilogy, which has been translated into thirty-five languages. His latest books include Borne and The Strange Bird.
or
Not Currently Available for Direct Purchase