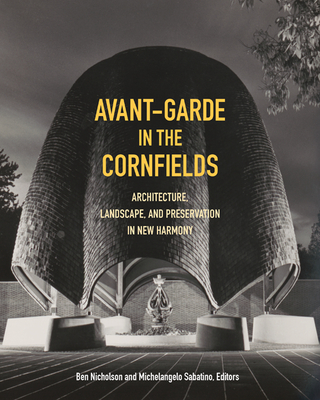 Avant-Garde in the Cornfields (Paperback)
Architecture, Landscape, and Preservation in New Harmony
Univ Of Minnesota Press, 9781517903145, 408pp.
Publication Date: October 15, 2019
Other Editions of This Title:
Hardcover (10/15/2019)
* Individual store prices may vary.
Description
A close examination of an iconic small town that gives boundless insights into architecture, landscape, preservation, and philanthropy

Avant-Garde in the Cornfields is an in-depth study of New Harmony, Indiana, a unique town in the American Midwest renowned as the site of two successive Utopian settlements during the nineteenth century: the Harmonists and the Owenites. During the Cold War years of the twentieth century, New Harmony became a spiritual "living community" and attracted a wide variety of creative artists and architects who left behind landmarks that are now world famous. 
This engrossing and well-documented book explores the architecture, topography, and preservation of New Harmony during both periods and addresses troubling questions about the origin, production, and meaning of the town's modern structures, landscapes, and gardens. It analyzes how these were preserved, recognizing the funding that has made New Harmony so vital, and details the elaborate ways in which the town remains an ongoing experiment in defining the role of patronage in historic preservation.
An important reappraisal of postwar American architecture from a rural perspective, Avant-Garde in the Cornfields presents provocative ideas about how history is interpreted through design and historic preservation—and about how the extraordinary past and present of New Harmony continue to thrive today. 
Contributors: William R. Crout, Harvard U; Stephen Fox, Rice U; Christine Gorby, Pennsylvania State U; Cammie McAtee, Harvard U; Nancy Mangum McCaslin; Kenneth A. Schuette Jr., Purdue U; Ralph Schwarz; Paul Tillich.
About the Author
Ben Nicholson is professor at the School of the Art Institute of Chicago. He has exhibited at the Fondation Cartier, The Renaissance Society, Canadian Centre for Architecture, and the Venice Biennale. He is author of Appliance House and The World: Who Wants It? 
Michelangelo Sabatino is educated as an architect and historian and is dean of the College of Architecture at the Illinois Institute of Technology in Chicago. He is author of Pride in Modesty: Modernist Architecture and the Vernacular Tradition in Italy, which received the Alice Davis Hitchcock Award.
Praise For Avant-Garde in the Cornfields: Architecture, Landscape, and Preservation in New Harmony…
"New Harmony has long been the American Eden that almost was—a place of learning, spirituality, and experimental architecture lost somewhere south of Indianapolis. This eclectic and sweeping volume brings its many lives, from utopian outpost on the frontier to center for contemplation and tourist site anchored by great works of modern architecture, to life. The equally diverse figures who animated the place, from the English industrialist Robert Owen to his distant heir Jane Blaffer Owen, and including architects Philip Johnson and Richard Meier, each receives a careful historic and formal analysis in this masterful collection of essays."—Aaron Betsky, president, School of Architecture at Taliesin
"A detour to the rural heartland can alter many presumptions about American modern culture. Reformers included Robert Owen, who bought the communitarian settlement of New Harmony, Indiana, in 1825, espousing equal rights for workers, women, and former slaves. This book looks closely at New Harmony in the post-WWII era, when historic preservation and environmentalism held sway, while protean architects like Philip Johnson and Richard Meier collaborated with their visionary client, Jane Blaffer Owen. Readers too will look at American modernism from a radically new perspective."—Gwendolyn Wright, Columbia University
"Three visionaries created New Harmony, and their visions could hardly be more different. Ben Nicholson and Michelangelo Sabatino, with their splendidly comprehensive study of Jane Blaffer Owen, the most elusive of the three, have completed the story of one of America's most consequential experiments in town-building."—Michael Lewis, Williams College