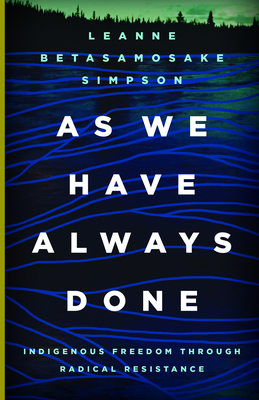 As We Have Always Done
Indigenous Freedom through Radical Resistance (Indigenous Americas)
Hardcover

* Individual store prices may vary.
Other Editions of This Title:
Paperback (12/29/2020)
Description
Winner: Native American and Indigenous Studies Association's Best Subsequent Book 2017
Honorable Mention: Labriola Center American Indian National Book Award 2017

Across North America, Indigenous acts of resistance have in recent years opposed the removal of federal protections for forests and waterways in Indigenous lands, halted the expansion of tar sands extraction and the pipeline construction at Standing Rock, and demanded justice for murdered and missing Indigenous women. In As We Have Always Done, Leanne Betasamosake Simpson locates Indigenous political resurgence as a practice rooted in uniquely Indigenous theorizing, writing, organizing, and thinking.
Indigenous resistance is a radical rejection of contemporary colonialism focused around the refusal of the dispossession of both Indigenous bodies and land. Simpson makes clear that its goal can no longer be cultural resurgence as a mechanism for inclusion in a multicultural mosaic. Instead, she calls for unapologetic, place-based Indigenous alternatives to the destructive logics of the settler colonial state, including heteropatriarchy, white supremacy, and capitalist exploitation.
Praise For As We Have Always Done: Indigenous Freedom through Radical Resistance (Indigenous Americas)…
"This is an astonishing work of Indigenous intellectualism and activism—by far the most provocative, defiant, visionary, and generous of Leanne Betasamosake Simpson's impressive corpus to date."—Daniel Heath Justice (Cherokee Nation), University of British Columbia
"I have learned more about this battered world from reading Leanne Betasamosake Simpson than from almost any writer alive today. A dazzlingly original thinker and an irresistible stylist, Simpson has gifted us with a field guide not to mere political resistance but to deep and holistic transformation. It arrives at the perfect time."—Naomi Klein, author of The Shock Doctrine and This Changes Everything
"A remarkable achievement that illuminates what is possible when we engage in the revolutionary act of indigenous self-love, As We Have Always Done asks the simple question, 'What if no one sided with colonialism?' The many possible answers to that question are reflected in Leanne Betasamosake Simpson's beautifully written book in which she kindly challenges indigenous people to reclaim their lives and bodies from the settler colonial state."—Sarah Deer (Muscogee [Creek] Nation), author of The Beginning and End of Rape
"Incisive. Unmitigated. Inspiring. Simpson gives no quarter to colonialism. No quarter to a nasty Western narrative. She provides a pure, Indigenous lens—a lens that the white man tried to kill and bury. This book is a reminder that they failed in that rotten endeavor. It belongs on every Canadian bookshelf. On every American coffee table. Simpson's words are an affirmation of Indigenous resilience and resolve."—Simon Moya-Smith (Lakota and Chicano), culture editor at Indian Country Media Network
"Leanne Betasamosake Simpson confronts colonialism from the perspective of Indigenous nationhood, but goes beyond arguing for changes in politics, writing in a way that enacts changes in our thinking about politics."—Indian Country Today
"While her intended audience is other Indigenous peoples, I think non-Indigenous Canadians will find it inspiring as they take up her challenge of decolonization."—Watershed Sentinel
"As We Have Always Done is an in-depth look into Indigenous resistance and what is possible when that resistance embraces Indigenous culture. It gives us a glimmer of hope. Hope that there is another way to live. That we can forge relationships, be with each other, and live for much more than what neo-liberal capitalism tells us life is about."—The Collective
"This book will not only offer the Indigenous community much courage, but it will also open the eyes of many non-Indigenous people. We have here not just a description of a state of affairs, but also a practical guide. A very important, successful publication."—Amerindian Research
"The book is essential for anyone studying any aspect of Indigenous decolonization, politics, law, and settler colonialism, and signals a vital shift away from current neoliberal discussions and policies of indigenization and reconciliation in order to rebuild and recover indigenous nationhoods."—Transmotion
"Simpson reminds us to be present, accept our battle scars and confusion, and move forward to our most beautiful. Love is present throughout her work. Her words convey compassion for our grief, our mistakes, our self-hatred, and our misdeeds, as well as an understanding of what it is to be Indigenous, to be Anishinaabeg."—Tribal College Journal
"Simpson writes about women who are skilled at hunting, fishing and medicine, women who hold political influence and live public lives, women who enjoy body sovereignty and sexual relationships beyond the confines of heterosexual monogamy; about people who do not fit the 'colonial gender binary' of male and female (123), who experience and express gender and sexual variance; about children who are separated from their communities and placed in residential schools, where they are prevented from speaking their own languages and learning about their own cultures. "—Wasafiri
"As We Have Always Done is a profound intellectual achievement, a roadmap out of colonialism that should be required reading for everyone. Beautifully written and unapologetically Indigenous, the book is a love letter to the joy and resilience of Native people, and their enduring strength in the face of white settler supremacy."—The Mantle
"As We Have Always Done: Indigenous Freedom through Radical Resistance is both an exceptional critical achievement and a joy to read."—Oxford University Press Journals
"As We Have Always Done is a stunning accomplishment that will no doubt inform Native political thought for years to come."—American Indian Quarterly
"A radical book that takes its Indigenous audience seriously."—Women's Studies Quarterly
Univ Of Minnesota Press, 9781517903862, 216pp.
Publication Date: October 17, 2017
About the Author
Leanne Betasamosake Simpson is a writer, activist, faculty member at the Dechinta Centre for Research and Learning, and a Distinguished Visiting Professor in the Faculty of Arts at Ryerson University. She is author of several books, including Dancing on Our Turtle's Back, The Gift Is in the Making, Islands of Decolonial Love, and This Accident of Being Lost. She is Michi Saagiig Nishnaabeg, holds a PhD from the University of Manitoba, and is a member of Alderville First Nation. 
or
Not Currently Available for Direct Purchase