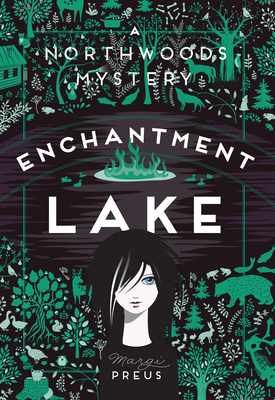 Enchantment Lake
A Northwoods Mystery
Paperback

* Individual store prices may vary.
Description
Midwest Book Award Winner — Young Adult Fiction
A disturbing call from her great aunts Astrid and Jeannette sends seventeen-year-old Francie far from her new home in New York into a tangle of mysteries. Ditching an audition in a Manhattan theater, Francie travels to a remote lake in the northwoods where her aunts' neighbors are "dropping like flies" from strange accidents. But are they accidents? 
On the shores of Enchantment Lake in the woods of northern Minnesota, something ominous is afoot, and as Francie begins to investigate, the mysteries multiply: a poisoned hotdish, a puzzling confession, eerie noises in the bog, and a legendary treasure said to be under enchantment—or is that under Enchantment, as in under the lake? At the center of everything is a suddenly booming business in cabin sales and a road not everyone wants built. 
To a somewhat reluctant northwoods Nancy Drew, the intrigue proves irresistible, especially when it draws her closer to the mysteries at the heart of her own life. What happened to her father? Who and where is her mother? Who is she, and where does her heart lie—in the bustle of New York City or the deep woods of Minnesota? With its gripping story, romantic spirit, and a sly dash of modern-day trouble (including evil realtors and other invasive species), Enchantment Lake will fascinate readers, providing precisely the charm that Margi Preus's fans have come to expect.
Praise For Enchantment Lake: A Northwoods Mystery…
"After playing a detective on TV, Francie travels to idyllic northern Minnesota to help her aunts. People are dying in strange accidents on Enchantment Lake, and the deaths seem to revolve around a treasure—could it be hidden at the bottom of the lake? In this charming first mystery, Francie finds the answers to most of her questions and even a bit of enchantment for herself."—Mary Logue, author of Lake of Tears and Sleep like a Tiger
"Minnesota's master storyteller Margi Preus gives us another gem of a novel—funny and moving, gorgeously written, and suspenseful. As much as this book is an absorbing mystery, it's also a deeply felt love letter to our uniquely enchanted northwoods. This is a book to lose yourself in."—Anne Ursu, author of Breadcrumbs and The Real Boy
"Preus, whose Heart of a Samurai (2010) was a Newbery Honor Book, offers intriguing characters, suspenseful moments, and a love interest—plenty to keep readers involved."—Booklist
"A delightful story for readers of all ages."—Play Off the Page
"A quick-moving mystery whose lovely descriptions of the Minnesota landscape add a pleasing layer of smalltown Midwestern atmosphere."—Publishers Weekly
"Reminiscent of the classic Nancy Drew mysteries of my youth, Enchantment Lake offers a quirky tale on the murder mystery genre, featuring a strong seventeen year old heroine and a cast of strange and eccentric characters. A cute, original, and entertaining read."—Throw Me a Book
"Likable, quirky, and entertaining."—VOYA
"A fun, adventurous romp of a story. A lovely read."—A Fantastic Librarian
"It was fun, it was fast and it had a cast of colorful characters."—Lovely Literature
"A good mystery novel with fun characters and interesting occurrences."—A Dream Within A Dream
"A quick, enjoyable read."—All Things Bookish
"Pure, innocent fun."—Constantly Reading Momma
"As Enchantment Lake speeds toward its resolution, you're surprised and sad your time at the lake is over."—Star Tribune
Univ Of Minnesota Press, 9781517904197, 200pp.
Publication Date: August 8, 2017
About the Author
Margi Preus is a New York Times–best-selling author of books for young readers, including Shadow on the Mountain, West of the Moon, and Heart of a Samurai, winner of a Newbery Honor and the Asian/Pacific American Award for Children's Literature. She loved mysteries since she was allowed to stay up past her bedtime to watch Perry Mason with her dad. Enchantment Lake is her first mystery.