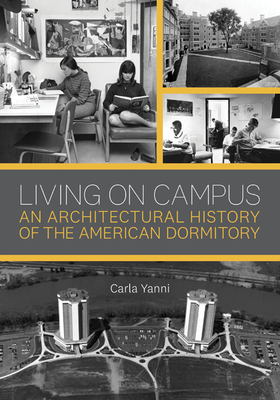 Living on Campus
An Architectural History of the American Dormitory
Paperback

* Individual store prices may vary.
Other Editions of This Title:
Hardcover (4/2/2019)
Description
An exploration of the architecture of dormitories that exposes deeply held American beliefs about education, youth, and citizenship
Every fall on move-in day, parents tearfully bid farewell to their beloved sons and daughters at college dormitories: it is an age-old ritual. The residence hall has come to mark the threshold between childhood and adulthood, housing young people during a transformational time in their lives. Whether a Gothic stone pile, a quaint Colonial box, or a concrete slab, the dormitory is decidedly unhomelike, yet it takes center stage in the dramatic arc of many American families. This richly illustrated book examines the architecture of dormitories in the United States from the eighteenth century to 1968, asking fundamental questions: Why have American educators believed for so long that housing students is essential to educating them? And how has architecture validated that idea? Living on Campus is the first architectural history of this critical building type. 
Grounded in extensive archival research, Carla Yanni's study highlights the opinions of architects, professors, and deans, and also includes the voices of students. For centuries, academic leaders in the United States asserted that on-campus living enhanced the moral character of youth; that somewhat dubious claim nonetheless influenced the design and planning of these ubiquitous yet often overlooked campus buildings. Through nuanced architectural analysis and detailed social history, Yanni offers unexpected glimpses into the past: double-loaded corridors (which made surveillance easy but echoed with noise), staircase plans (which prevented roughhousing but offered no communal space), lavish lounges in women's halls (intended to civilize male visitors), specially designed upholstered benches for courting couples, mixed-gender saunas for students in the radical 1960s, and lazy rivers for the twenty-first century's stressed-out undergraduates.  
Against the backdrop of sweeping societal changes, communal living endured because it bolstered networking, if not studying. Housing policies often enabled discrimination according to class, race, and gender, despite the fact that deans envisioned the residence hall as a democratic alternative to the elitist fraternity. Yanni focuses on the dormitory as a place of exclusion as much as a site of fellowship, and considers the uncertain future of residence halls in the age of distance learning.
Praise For Living on Campus: An Architectural History of the American Dormitory…
"Living on Campus is an outstanding contribution to the research literature on student life and college residence halls. Carla Yanni's rigorous scholarship and captivating writing style invites the reader into the lives of students and the places they live from the early colonial period to present day. She skillfully uses students' life experiences and her deep historical and architectural knowledge to show how student life, architectural design, and educational philosophy interacted throughout history to shape the collegiate experience. This is a must read for anyone interested in student life in college residence halls." —Gregory S. Blimling, author of Student Learning in College Residence Halls: What Works, What Doesn't, and Why

"What a lively and fascinating study! Living on Campus offers compelling looks at architectural plans, façades, and interiors of residential buildings for college and university students. Attentive to the myriad issues of college life, the work links the history of dormitories to the diverse lives lived within—and without—their walls and to the changing goals of campus administrators and donors." —Helen Lefkowitz Horowitz, author of Alma Mater: Design and Experience in the Women's Colleges from Their Nineteenth-Century Beginnings to the 1930s

"In clear, elegant prose, Carla Yanni tracks the 350-year architectural history of the college dormitory and exposes its contested social meanings, marked by inclusions and exclusions on the basis of class, gender, and race. This is a remarkable achievement—a welcome addition to the architectural history of youth, higher education, and institutions." —Marta Gutman, author of A City for Children: Women, Architecture, and the Charitable Landscapes of Oakland, 1850-1950

"In Living on Campus, Carla Yanni interrogates the social history of college residences to map the struggles between inclusion and exclusion that frame the daily life of the American campus. From the development of moral character to the creation of a democratic citizenry, these buildings go hand in hand with the libraries, classrooms, and laboratories that make up the pedagogical space of higher education today." —Sharon Haar, Taubman College of Architecture and Urban Planning
 
Univ Of Minnesota Press, 9781517904562, 288pp.
Publication Date: April 2, 2019
About the Author
Carla Yanni is professor of art history at Rutgers University. She is author of The Architecture of Madness: Insane Asylums in the United States (Minnesota, 2007) and Nature's Museums: Victorian Science and the Architecture of Display.