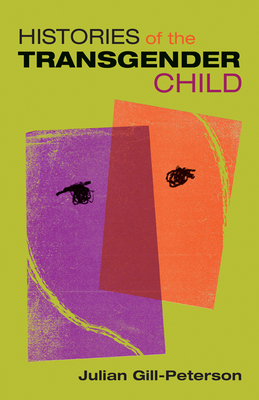 Histories of the Transgender Child
Paperback

* Individual store prices may vary.
Other Editions of This Title:
Hardcover (10/23/2018)
Description
A groundbreaking twentieth-century history of transgender children

With transgender rights front and center in American politics, media, and culture, the pervasive myth still exists that today's transgender children are a brand new generation—pioneers in a field of new obstacles and hurdles. Histories of the Transgender Child shatters this myth, uncovering a previously unknown twentieth-century history when transgender children not only existed but preexisted the term transgender and its predecessors, playing a central role in the medicalization of trans people, and all sex and gender.
Beginning with the early 1900s when children with "ambiguous" sex first sought medical attention, to the 1930s when transgender people began to seek out doctors involved in altering children's sex, to the invention of the category gender, and finally the 1960s and '70s when, as the field institutionalized, transgender children began to take hormones, change their names, and even access gender confirmation, Julian Gill-Peterson reconstructs the medicalization and racialization of children's bodies. Throughout, they foreground the racial history of medicine that excludes black and trans of color children through the concept of gender's plasticity, placing race at the center of their analysis and at the center of transgender studies.
Until now, little has been known about early transgender history and life and its relevance to children. Using a wealth of archival research from hospitals and clinics, including incredible personal letters from children to doctors, as well as scientific and medical literature, this book reaches back to the first half of the twentieth century—a time when the category transgender was not available but surely existed, in the lives of children and parents.
Praise For Histories of the Transgender Child…
"Histories of the Transgender Child is a tour de force contribution to transgender studies, tracing little-noticed pathways from the past toward convergences that increasingly take center stage in the next field. An elegant combination of sophisticated theorization with equally sophisticated attention to archival and historical materials, this is one of the best books in trans studies in recent years."—Susan Stryker, University of Arizona
"Jules Gill-Peterson excavates the history of medicine, introducing readers to a century's worth of gender nonconforming youth. This remarkable book is not merely a backward glance; it offers an urgent call to reimagine trans as a form of self-knowledge children can hold and for an ethics of care that focuses on affirmation."—Tey Meadow, author of Trans Kids
"Meticulously researched and compellingly argued, this book is a welcome addition to a number of fields, including trans of color critique, childhood studies, and queer and trans history."—C. Riley Snorton, author of Black on Both Sides
"This work fills a gap in queer history; older trans, intersex, and nonbinary people who work through the dense, theoretical prose may find their experiences reflected in Gill-Peterson's history, and younger ones may discover that their "uncovering of a century of untold stories" provides a tether to an underexplored legacy."—Publishers Weekly

"You have to start somewhere. Indeed, few things begin in a vacuum: you need an idea, then experiments and practice to create a masterpiece. Nothing magically just appears. And in the new book "Histories of the Transgender Child" by Jules Gill-Peterson,you'll see that that's true, too, about knowledge and change." —South Florida Gay News

"For children's literature scholars who work on gender and sexuality, this book is essential reading for its insights that transgender children are not new and that binary sex and gender are extremely recent and fragile ideas reliant on a dehumanizing, racially coded conceptualization of the child as plasticity." —The Lion and the Unicorn
Univ Of Minnesota Press, 9781517904678, 288pp.
Publication Date: October 23, 2018
About the Author
Jules Gill-Peterson is assistant professor of English at the University of Pittsburgh.