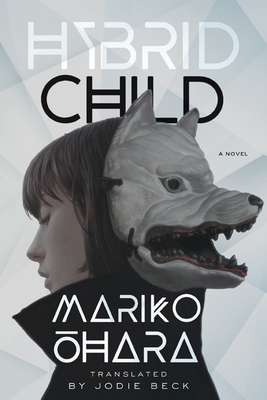 Hybrid Child
A Novel (Parallel Futures)
Paperback

* Individual store prices may vary.
Other Editions of This Title:
Hardcover (6/15/2018)
Description
A classic of Japanese speculative fiction that blurs the line between consumption and creation when a cyborg assumes the form and spirit of a murdered child

Until he escaped, he had been called "Sample B #3," but he had never liked this name. That would surprise them—that he could feel one way or another about it. He was designed to reshape himself based on whatever life forms he ingested; he was not made to think, and certainly not to assume the shape of a repair technician whose cells he had sampled and then simply walk out of the secure compound.
Artificial Intelligence is all too real in this classic of Japanese science fiction by Mariko Ohara. Jonah, a child murdered by her mother, has become the spirit of an AI-controlled house where the rogue cyborg once known as Sample B #3 takes refuge and, making a meal of the dead girl buried under the house, takes Jonah's form. On faraway Planet Caritas, an outpost of human civilization, the female AI system that governs society has become insane. Meanwhile, the threat of the Adiaptron Empire, the machine race that #3 was built to fight, remains. 
With the familiar strangeness of a fairy tale, Ohara's novel traverses the mysterious distance between body and mind, between the mechanics of life and the ghost in the machine, between the infinitesimal and infinity. The child as mother, the mother as monster, the monster as hero: this shape-shifting story of nourishment, nurture, and parturition is a rare feminist work of speculative fiction and received the prestigious Seiun (Nebula) Award in 1991. Hybrid Child is the first English translation of a major work of science fiction by a female Japanese author. 
Praise For Hybrid Child: A Novel (Parallel Futures)…
"Time and fate, mortality and motherhood, paternalism and destruction: Ohara goes for the extremes with all of these, making for an envelope-pushing story that is often remarkably controlled but also strays wildly off the rails (to places beyond even just a concept of rails ...). It is an uneven but often fascinating and in parts utterly remarkable read. A wild, bizarre mix of rides -- but worthwhile."—Complete Review

"Ohara does not eschew death and destruction but she definitely takes a much more nuanced (and intelligent) approach both to this and to the rest of the book. She is certainly concerned with science fiction tropes." —The Modern Novel

"For any fan of speculative fiction, Hybrid Child presents a sprawling, imaginative excursion into the unknown that also predicts current familiar thematic questions of gender politics and weaponized robots." —The Japan Times

"Atmospheric, brutal, and wildly intelligent, Ohara's masterpiece is translated with bravura and care." —Publishers Weekly
Univ Of Minnesota Press, 9781517904906, 304pp.
Publication Date: June 15, 2018
About the Author
Mariko Ohara's many books include Senso-wo Enjita Kamigamitachi (Gods Prosecuting War), which won the 1994 Nihon SF Taisho Award for best science fiction work of the year; Taimu Riipa (Time Leaper, 1993); and Kyuuketsuki Efemera (Ephemera the Vampire, 1993). She also writes for comics, radio, and video games, including the original script for Super Nintendo Gaia Gensoki (Illusion of Gaia). Saiko Saundo Mashin (Psycho Sound Machine, 1998), based on one of her stories, won the Galaxy Award for best radio drama.
Jodie Beck is an ESL/EFL instructor and Japanese–English translator. Her translations of essays have been published in Mechademia.