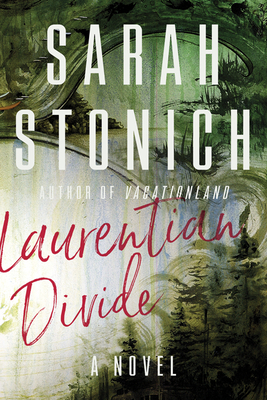 Laurentian Divide
A Novel
Hardcover

* Individual store prices may vary.
Other Editions of This Title:
Digital Audiobook (10/22/2018)
Paperback (10/8/2019)
Description
Winner of the 2019 Minnesota Book Award for Novel & Short Story

Poignant portrayals of life on the edge in northern Minnesota border country, from the best-selling author of These Granite Islands and Vacationland 

Bitter winters are nothing new in Hatchet Inlet, hard up against the ridge of the Laurentian Divide, but the advent of spring can't thaw the community's collective grief, lingering since a senseless tragedy the previous fall. What is different this year is what's missing: Rauri Paar, the last private landowner in the Reserve, whose annual emergence from his remote iced-in islands marks the beginning of spring and the promise of a kinder season. 
The town's residents gather at the local diner and, amid talk of spring weather, the latest gossip, roadkill, and the daily special, take bets on when Rauri will appear—or imagine what happened to him during the long and brutal winter. Retired union miner and widower Alpo Lahti is about to wed the diner's charming and lively waitress, Sissy Pavola, but, with Rauri still unaccounted for, celebration seems premature. Alpo's son Pete struggles to find his straight and narrow, then struggles to stay on it, and even Sissy might be having second thoughts. 
Weaving in and out of each other's reach, trying hard to do their best (all the while wondering what that might be), the residents of this remote town in all their sweetness and sorrow remind us once more of the inescapable lurches of the heart and unexpected turns of our human comedy.
Praise For Laurentian Divide: A Novel…
"Hilarious, smart, moving, and kind, Laurentian Divide is good for the soul, or anyway, it was good for mine."—Richard Russo
"There aren't many writers on the planet who can take a reader's heart apart and put it back together again with the sureness of Sarah Stonich, who does exactly that over and over again in Laurentian Divide, her best yet. Funny and wise in equal measure, here's a novel for everyone. What a treasure."—Peter Geye, author of Wintering
"With seamless grace, Sarah Stonich has again woven the towering majesty of Minnesota's Arrowhead Country with the endearing miscellany of its denizens, creating a tapestry both elegant and earthy. Here, reader, are joy and artistry."—Faith Sullivan, author of Good Night, Mr. Wodehouse
"Laurentian Divide is rich, funny, and overflowing with life—Sarah Stonich at the top of her powers."—Will Weaver, author of Sweet Land
"With a nimble hand and wry voice, Sarah Stonich pilots this generous tale—incisive, musical, and spiced with pungent observation so that Laurentian Divide becomes the best sort of trip."—Leif Enger, author of Peace Like a River and Virgil Wander
"It was a pleasure to spend time with these characters again and see the family they have created within their community. Sarah Stonich's beautiful prose, sly humor, and obvious fondness for her subject matter make Laurentian Divide a must-read."—Pamela Klinger-Horn, Excelsior Bay Books
"Thanks to Stonich's keen depictions, this is a small town peopled with actual people: diverse individuals united by a common experience of place. Laurentian Divide transports attention to a 'scrap of near-nowhere' because 'life isn't something that happens to you—how you choose to react to what happens is life.'"—Foreword Review
"Stonich weaves past and present into a lyrical, immersive novel. Fans of Kent Haruf and Paulette Jiles will fall in love with Stonich's depiction of Minnesota: harsh and welcoming, friendly and unforgiving, all at once. Exploring the consequences of actions set in motion months, years, or even decades ago, Stonich's slow burn of a novel questions what—and who—can belong to us."—Booklist

"Laurentian Divide does what a good sequel should. It fills in details and updates on the characters that we love, but also tells a compelling story of its own. There is an understanding of the bittersweet realities of life, an acceptance of the good and bad that comes with the simple act of living." —Nicole M. Burrell
Univ Of Minnesota Press, 9781517905620, 272pp.
Publication Date: September 18, 2018
About the Author
Sarah Stonich is the best-selling author of These Granite Islands (Minnesota, 2013), which has been translated into seven languages and shortlisted for France's Grand Prix des Lectrices de Elle; the critically acclaimed novel The Ice Chorus; and a memoir, Shelter: Off the Grid in the Mostly Magnetic North (Minnesota, 2017). Her novel-in-stories, Vacationland (Minnesota, 2013), is the first volume in her Northern Trilogy, followed by Laurentian Divide. She has also written the novels Fishing with RayAnne and Reeling. The founder of WordStalkers.com, she lives on the Mississippi River in Minneapolis.
1. Fictional Hatchet Inlet is an isolated community. What about the place rang true (or false) for you? If you are city dweller, did the book change your perceptions of small-town dynamics?
2. The author touches on the daily concerns of dealing with aging parents, troublesome adult children, career decisions, and regrets. Have any been a personal concern for you?
3. The author uses the unknown circumstances of one character to propel thoughts and actions of others. Did you speculate over Rauri's fate along with these characters?
4. The geological Laurentian Divide is used both geographically and metaphorically in this story. What would you identify as divisions or disagreements among these characters?
5. Did the cover of this book fit the story?
6. What was your favorite quote or scene from the book? Why was it meaningful?
7. If you were making a movie of this book, who would you cast in protagonists' roles?
8. Weighty topics of grief, addiction, sex, and dementia are approached with humor in this book. Did the author also regard such topics with their due regard?
9. Though the abuse in Pete's past is unearthed, it remains buried to his loved ones. Should he keep his history private? What if any outcomes might have shifted if he'd spoken up?
10. This novel is very place-based. How well do you think the author built the world in the book?
11. Each of main characters takes their turn chapter-by-chapter until nearly the end, when the three converge. What did you think of this structure?
12. Some authors address current social and environmental issues or politics in their work. Should fiction authors' goals be to merely entertain, or is it okay to have a message?
13. If you were to host a dinner around this story, what would be on the menu?
14. Did this book feel like the beginning of a larger story, or an ending?
15. If you could hear this same story from one of the secondary characters point of view, which would you choose?
16. This book is the second in a trilogy. Have you read the first volume, Vacationland? If so, how do the books compare? Will you look forward to the third book?
17. Would you consider posting a brief review or simply rating the novel on a book site or online retailer? Did you know that posting improves a books chances of reaching a broader audience?
or
Not Currently Available for Direct Purchase