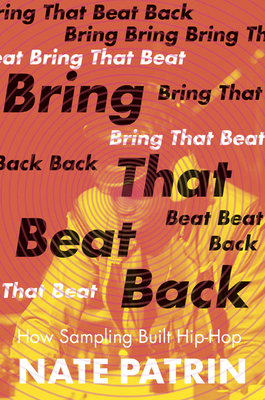 Bring That Beat Back
How Sampling Built Hip-Hop
Paperback

* Individual store prices may vary.
Description
How sampling remade hip-hop over forty years, from pioneering superstar Grandmaster Flash through crate-digging preservationist and innovator Madlib

 
Sampling—incorporating found sound and manipulating it into another form entirely—has done more than any musical movement in the twentieth century to maintain a continuum of popular music as a living document and, in the process, has become one of the most successful (and commercial) strains of postmodern art. Bring That Beat Back traces the development of this transformative pop-cultural practice from its origins in the turntable-manning, record-spinning hip-hop DJs of 1970s New York through forty years of musical innovation and reinvention.
Nate Patrin tells the story of how sampling built hip-hop through the lens of four pivotal artists: Grandmaster Flash as the popular face of the music's DJ-born beginnings; Prince Paul as an early champion of sampling's potential to elaborate on and rewrite music history; Dr. Dre as the superstar who personified the rise of a stylistically distinct regional sound while blurring the lines between sampling and composition; and Madlib as the underground experimentalist and record-collector antiquarian who constantly broke the rules of what the mainstream expected from hip-hop. From these four artists' histories, and the stories of the people who collaborated, competed, and evolved with them, Patrin crafts a deeply informed, eminently readable account of a facet of pop music as complex as it is commonly underestimated: the aesthetic and reconstructive power of one of the most revelatory forms of popular culture to emerge from postwar twentieth-century America. And you can nod your head to it.
Praise For Bring That Beat Back: How Sampling Built Hip-Hop…
"The rise of digital sampling is one of the most important musical development of the late twentieth century. Nate Patrin's Bring That Beat Back is a rollicking, wide-ranging, and immensely readable history of sample-based music-making: its origins, its golden ages, and its enormous role in shaping modern popular music. This book is a must-read for hip-hop obsessives and casual listeners alike."—Jack Hamilton, author of Just around Midnight: Rock and Roll and the Racial Imagination
"Much like the art of sampling itself, Nate Patrin deftly weaves pieces of history and criticism together to create a compelling new message. Bring That Beat Back is a masterful, scholarly analysis that illustrates just how essential sampling has been to the development of hip-hop and lifts up the oft-overlooked DJs and producers who paved the way for our genrefluid future."—Andrea Swensson, author of Got to Be Something Here: The Rise of the Minneapolis Sound
"The painstaking attention to detail and droves of obscure yet essential information will make this book hard for the beat obsessive and music history buff to put down. The wealth of information won't deter the casual music fan, though—Bring That Beat Back is a fascinating read for anyone with a remote interest in hip-hop, breakbeat culture, the tug-of-war between instrumentalists and technology, or how the politics of the music business affects all three. A true breakbeat bonanza extravaganza!"—J-Zone, drummer, funk enthusiast, producer, author
"If sampling is the most successful form of alchemy ever realized, Nate Patrin's meticulous prose and crate-digging research mirror the dazzling ingenuity of hip-hop's best producers. Breaks and loops are artfully recontextualized into a head-nodding slipstream of history, chronicled in a way to make classic rhythms seem fresh again. A necessary read for anyone who seeks to better understand the last half-century of future sound."—Jeff Weiss, founder and editor of POW (Passion of the Weiss)
"Patrin conveys the drama of successive generations of musicians all questing for new ways to tap into the thing that makes hip-hop's language unique—moments sourced from music's past that somehow point the way forward, expressing both nostalgia and renewal in equal measure."—Library Journal
"Could there a better argument for the artistry of sampling, its potential for beauty?"—The Arts Fuse
"A must-read for any hip hop fan—Patrin clearly understands the artform of sampling and hip hop production, and he does a great job of not just discussing these different artists and eras in the four sections, but also showing how the sections overlap and inform each other and push the culture forward."—Scratched Vinyl
"Patrin's book is packed with leaps, connections, and knowledge transfusions almost as dense as a Madvillain beat... though it proceeds in a somewhat more orderly manner. It functions on multiple levels: it's a history of hip-hop, it's an argument for that genre as a wholly distinctive art form with sampling technology at its root, and it's a map from hip-hop out to a wildly diverse set of artists connected to the genre by way of samples."—The Current
"Patrin has an encyclopedic knowledge of his subject, packing each chapter with manic attention to detail."—4Columns
"A truly postmodern endeavor that creates conversations between music originating in many eras and genres."—Shepherd Express
"This musicological study is never dry, always enthusiastic and appreciative, and groundbreaking in its analysis of the art of sampling as just that: art. Featuring plenty of entertaining cultural history, this is a significant contribution to hip-hop studies."—Rolling Stone 
"Patrin's work is thoroughly engaging from first needle drop to last. "—Kirkus Reviews
Univ Of Minnesota Press, 9781517906283, 336pp.
Publication Date: June 9, 2020
About the Author
Nate Patrin is a longtime music critic whose writing has appeared in dozens of publications including Pitchfork, Stereogum, Spin, Bandcamp Daily, Red Bull Music Academy, and his hometown Twin Cities' alt-weekly City Pages. This is his first book.