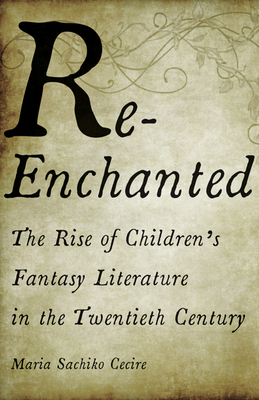 Re-Enchanted
The Rise of Children's Fantasy Literature in the Twentieth Century
Paperback

* Individual store prices may vary.
Other Editions of This Title:
Hardcover (12/17/2019)
Description
From The Hobbit to Harry Potter, how fantasy harnesses the cultural power of magic, medievalism, and childhood to re-enchant the modern world
Why are so many people drawn to fantasy set in medieval, British-looking lands? This question has immediate significance for millions around the world: from fans of Lord of the Rings, Narnia, Harry Potter, and Game of Thrones to those who avoid fantasy because of the racist, sexist, and escapist tendencies they have found there. Drawing on the history and power of children's fantasy literature, Re-Enchanted argues that magic, medievalism, and childhood hold the paradoxical ability to re-enchant modern life.
Focusing on works by authors such as J. R. R. Tolkien, C. S. Lewis, Susan Cooper, Philip Pullman, J. K. Rowling, and Nnedi Okorafor, Re-Enchanted uncovers a new genealogy for medievalist fantasy—one that reveals the genre to be as important to the history of English studies and literary modernism as it is to shaping beliefs across geographies and generations. Maria Sachiko Cecire follows children's fantasy as it transforms over the twentieth and twenty-first centuries—including the rise of diverse counternarratives and fantasy's move into "high-brow" literary fiction. Grounded in a combination of archival scholarship and literary and cultural analysis, Re-Enchanted argues that medievalist fantasy has become a psychologized landscape for contemporary explorations of what it means to grow up, live well, and belong. The influential "Oxford School" of children's fantasy connects to key issues throughout this book, from the legacies of empire and racial exclusion in children's literature to what Christmas magic tells us about the roles of childhood and enchantment in Anglo-American culture.
Re-Enchanted engages with critical debates around what constitutes high and low culture during moments of crisis in the humanities, political and affective uses of childhood and the mythological past, the anxieties of modernity, and the social impact of racially charged origin stories.
Praise For Re-Enchanted: The Rise of Children's Fantasy Literature in the Twentieth Century…
"Re-Enchanted is essential for the study of the fantastic. While other recent critical studies have focused on fantasy's origins before 1900 or the genre's place in the contemporary literary landscape, Maria Sachiko Cecire focuses the reader on the influence of the Oxford School fantasists, also known as the 'Inklings,' who mapped the world of story through perspectives influenced by their times. Thus, fantasy was left behind while the rest of the world changed. Re-Enchanted reminds us of the ways that English-language fantasy is, was, and can continue to be an instrument of empire. Engaging, thorough, and absolutely necessary."—Ebony Elizabeth Thomas, author of The Dark Fantastic: Race and the Imagination from Harry Potter to the Hunger Games
"Full of revelatory scholarship on J. R. R. Tolkien, C. S. Lewis, Phillip Pullman, and their heirs, Re-Enchanted makes the case for scholarship itself at the heart of fantasy. No one will read The Lord of the Rings or His Dark Materials again without realizing just how much Oxford itself—its libraries and its landscape—scripted their imaginations and how its syllabi inspire, to this day, Harry Potter, The Magicians, and beyond."—Seth Lerer, author of Children's Literature: A Reader's History, from Aesop to Harry Potter
"In the twenty-first century, fantasy has become a way of speaking, in fiction (adults or children's) and outside it. Here Maria Sachiko Cecire interrogates the Oxford roots of something that has become, like wallpaper, part of our world, and helps us to see the landscape of J. R. R. Tolkien and C. S. Lewis, of Diana Wynne Jones and Philip Pullman, and understand how that landscape became universal, the ways it buoys us up and the ways that it fails us."—Neil Gaiman
"Cecire calls upon readers to acknowledge the dangers of the Oxford School's project while recognizing the cultural power its members harnessed. She encourages us to embrace and explore new ways of expanding the scope of the tropes of children's fantasy to become more inclusive in the ways it reaches into the past to find magic in a difficult contemporary world."—Medievally Speaking
"Effectively, Cecire proves that in terms of modern children's fantasy literature, all roads lead to the Oxford School."—CHOICE
"Cecire illustrates brilliantly how Tolkien and Lewis took the building blocks of medieval literature and historical linguistics and created alternative worlds."—Times Literary Supplement
"An important and endlessly engaging book that will provoke much further thought and discussion."—Mythlore
"A compelling case both for training our critical attention on medieval and medievalist literature and for expanding the texts we read, teach, study, and share."—The Medieval Review
Univ Of Minnesota Press, 9781517906580, 328pp.
Publication Date: December 17, 2019
About the Author
Maria Sachiko Cecire is associate professor of literature and founding director of the Center for Experimental Humanities at Bard College.
or
Not Currently Available for Direct Purchase