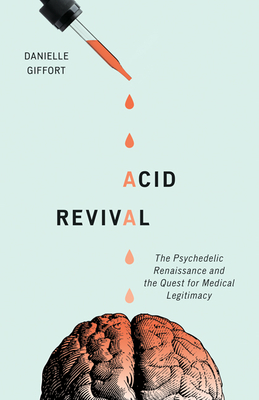 Acid Revival
The Psychedelic Renaissance and the Quest for Medical Legitimacy
Paperback

* Individual store prices may vary.
Other Editions of This Title:
Digital Audiobook (10/26/2020)
Hardcover (7/21/2020)
Description
A vivid analysis of the history and revival of clinical psychedelic science

Psychedelic drugs are making a comeback. In the mid-twentieth century, scientists actively studied the potential of drugs like LSD and psilocybin for treating mental health problems. After a decades-long hiatus, researchers are once again testing how effective these drugs are in relieving symptoms for a wide variety of psychiatric conditions, from depression and obsessive–compulsive disorder to posttraumatic stress disorder and substance addiction. In Acid Revival, Danielle Giffort examines how this new generation of researchers and their allies are working to rehabilitate psychedelic drugs and to usher in a new era of psychedelic medicine.

As this team of researchers and mental health professionals revive the field of psychedelic science, they are haunted by the past and by one person in particular: psychedelic evangelist Timothy Leary. Drawing on extensive archival research and interviews with people working on scientific psychedelia, Giffort shows how today's researchers tell stories about Leary as an "impure" scientist and perform his antithesis to address a series of lingering dilemmas that threaten to rupture their budding legitimacy. Acid Revival presents new information about the so-called psychedelic renaissance and highlights the cultural work involved with the reassembly of dormant areas of medical science.

This colorful and accessible history of the rise, fall, and reemergence of psychedelic medicine is infused with intriguing narratives and personalities—a story for popular science aficionados as well as for scholars of the history of science and medicine.
Praise For Acid Revival: The Psychedelic Renaissance and the Quest for Medical Legitimacy…
"How does science plow forward in the face of stigma and skepticism? In this captivating account brimming with fascinating episodes, Danielle Giffort shows how a new generation of mental health researchers seeks to bring psychedelic drugs out of the shadows as respectable therapies—and how they ward off the specters of the countercultural past."—Steven Epstein, author of Impure Science: AIDS, Activism, and the Politics of Knowledge
"Psychedelic medicine has the potential to transform psychiatry, but its advancement is threatened by unique social and legal challenges. Acid Revival provides an inside look at how the researchers conducting this controversial work present themselves as legitimate scientists. In a series of colorful stories, Danielle Giffort explains the role that cultural narrative and performance play in the production of expertise. Essential reading for anyone interested in understanding which drugs are deemed medically useful and why."—Joanna Kempner, author of Not Tonight: Migraine and the Politics of Gender and Health
"Acid Revival will appeal to those interested in psychedelic research past and present. The candid interviews the book offers makes it a unique source."—Psymposia
"The book will make informative and accessible reading in undergraduate and graduate courses on the field of mental health and the sociology of science."—Oxford Academic
"Acid Revival will no doubt become a reference point for those interested in psychiatry's varied attempts to reinvent itself as it has sought to conquer what Whooley (2019) has called its stubborn 'ignorance.'"—Social Forces
"A thorough case study relevant to the history of science."—Isis Journal
"Acid Revival is an engaging and accessible read for anyone interested in scientific expertise or psychedelic science and its history. Giffort's timely focus on psychedelic expertise provides a useful framework that science studies scholars can build on."—Journal of Behavioral Sciences
Univ Of Minnesota Press, 9781517906726, 232pp.
Publication Date: July 21, 2020
About the Author
Danielle Giffort is a Senior User Experience Researcher at Ipsos.
or
Not Currently Available for Direct Purchase