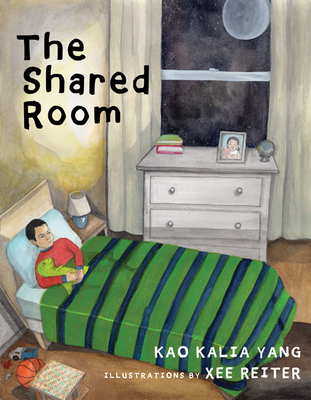 The Shared Room
Hardcover

* Individual store prices may vary.
Description
A family gradually moves forward after the loss of a child—a story for readers of all ages

When someone you love dies, you know what doesn't die? Love. On the hot beach, among colorful umbrellas blooming beneath a bright sun, no one saw a little girl walk into the water. Now, many months later, her bedroom remains empty, her drawers hold her clothes, her pillows and sheets still have her scent, and her mother and father, brothers and sister carry her in their hearts, along with their grief, which takes up so much space. Then one snowy day, the mother and father ask the girl's older brother, "Would you like a room of your own?" He wants to know, "Whose?" They say, "Your sister's."
Tenderly, and with refreshing authenticity, beloved Minnesota writer Kao Kalia Yang tells the story of a Hmong American family living with loss and tremendous love. Her direct and poignant words are accompanied by the evocative and expressive drawings of Hmong American artist Xee Reiter. The Shared Room brings a message of comfort and hope to readers young and old.
Praise For The Shared Room…
"There is such power and pain and beauty in this brave little book. It is a thing to be treasured. Children who have experienced terrible grief in their young lives and are in need of seeing their sorrow reflected and honored have a beautiful friend in this story. The Shared Room is a tender thing—all heart and hope and quiet love. I love it dearly."—Kelly Barnhill, author of Newbery Medal Winner The Girl Who Drank the Moon

"A devastating yet beautiful meditation on loss, The Shared Room is a loving portrait of a family grappling with the impossible but necessary reality of moving forward together through their grief."—Minh Lé, author of The Perfect Seat
"Comforting for readers who have suffered the tragic death of a sibling or young friend."—Kirkus Reviews
"This is a story of unimaginable loss, the loss of a child, but also the power of family love, healing, and hope."—Youth Services Book Review (starred review)
"The Shared Room will pull at your heart strings as you observe a family coping with deep sadness and emptiness attempting to move forward and put the fractured pieces of their lives slowly back together. It is a powerful book of hope. I highly recommend it."—StoryWraps
"Although the story is about death, this is not a dark book. It shows that family love can heal and it touches on the big topics children are eager to learn about, especially in these days of pandemic."—Pioneer Press
"Yang's prose is filled with poetic moments throughout this heartfelt story."—Waking Brain Cells
"While this poignant book might best be read by children who have suffered tragedy or loss, the story is so carefully and beautifully crafted that its hopeful message is appropriate for all."—Star Tribune
"Told from the perspective of the dead girl's brother, who is asked if he would like to move into her now-empty bedroom, The Shared Room is a beautiful and tender story of loss and abiding love."—Minnesota Alumni Magazine
"A message of comfort and hope to readers of all ages."—Northern Wilds 
Univ Of Minnesota Press, 9781517907945, 32pp.
Publication Date: June 9, 2020
About the Author
Kao Kalia Yang is a mother of three and a writer of both adult and children's literature. She is author of A Map into the World, the award-winning memoirs The Latehomecomer: A Hmong Family Memoir and The Song Poet, and is coeditor with Shannon Gibney of What God Is Honored Here? Writings on Miscarriage and Infant Loss by and for Native Women and Women of Color (Minnesota, 2019). Her dream is to create books that a child can grow up with and an adult can grow old with. She lives in Minnesota where the winters are cold and dry and the summers are hot and humid, but there are days in between that are so very precious and perfect they are a state secret. 
Xee Reiter is a first-generation Hmong-American artist and illustrator. She lives in St. Paul with her husband and three children.