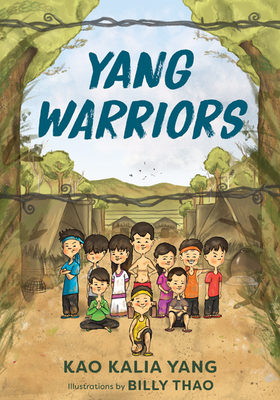 Yang Warriors
Hardcover

* Individual store prices may vary.
Description
Award-winning author Kao Kalia Yang delivers an inspiring tale of resourceful children confronting adversaries in a refugee camp

After lunch the Yang warriors prepare for battle. They practice drills, balance rocks on their heads, wield magical swords from fallen branches. Led by ten-year-old Master Me (whose name means "little"), the ten cousins are ready to defend the family at all costs. After a week without fresh vegetables , the warriors embark on a dangerous mission to look for food, leaving the camp's boundaries, knowing their punishment would be severe if they were caught by the guards. 
In this inspiring picture book, fierce and determined children confront the hardships of Ban Vinai refugee camp, where the author lived as a child. Yang's older sister, seven-year-old Dawb, was one of the story's warriors, and her brave adventure unfolds here with all the suspense and excitement that held her five-year-old sister spellbound many years later. Accompanied by the evocative and rich cultural imagery of debut illustrator Billy Thao, the warriors' secret mission shows what feats of compassion and courage children can perform, bringing more than foraged greens back to the younger children and to their elders. In this unforgiving place, with little to call their own, these children are the heroes, offering gifts of hope and belonging in a truly unforgettable way. 
Praise For Yang Warriors…
"Yang Warriors entranced me from start to finish. Kao Kalia Yang reminds us that children can be just as brave, steadfast, and pure of heart as any adult. This tale of hope and resilience will inspire young warriors everywhere."—Christina Soontornvat, author of All Thirteen: The Incredible Cave Rescue of the Thai Boys' Soccer Team
"These children are not warriors in violence or ferocity, or even strength or speed, but rather by way of their purposeful, determined, courageous compassion. The lessons in this book are not for children so much as from them, and I remain grateful to Master Me and his tiny band of heart warriors for this demonstration of love in action."—Liz Garton Scanlon, author of All the World
"Yang Warriors is a gentle reminder that superheroes come in all shapes and sizes. A moving and powerful story of the hope and resilience of a Hmong family."—Carole Lindstrom, author of We Are Water Protectors
"The illustrations are by a Hmong American who researched and achieved a style that fits beautifully and enhances the text. The gentle images use vibrant colors and a mystical touch."—Martha's Bookshelf 
"While the book takes place in a specific refugee camp, its circumstances help both children and adults understand the dire situations of such camps housing millions around the world today. Intended for elementary-aged children, it can teach us all."—Lake Superior Magazine
"A powerful tale about finding purpose and strength in the face of extreme adversity."—Kirkus Reviews 
"A breathtaking book."—Star Tribune 
"As the author writes, they 'risked everything for something better,' and they show us that the bravery of children can be as inspiring as that of adults."—Booklist
"Yang uses simple but evocative language to tell her story, full of sensorial details, which the illustrations reinforce."—Youth Services Book Review 
"Yang Warriors by Kao Kalia Yang and illustrated by Billy Thao has so much to love. Starting with the fact that it shows that fierce, determined, compassionate — and of course committed — children can be heroes too... The reviews describe the hope, resilience and inspiration this story holds, while offering an excellent history lesson that isn't often covered in elementary school history classes.
"—Cool Mom Picks
"Kao Kalia Yang has put the perfect words together to whisk readers back in time right into her memories."— Reading Through Life
"A breathtaking book, all the more impressive because the story it tells is true. "—Daily Register
"Uplifting, powerful, and well told."—The Reading Tub 
"In this inspiring picture book, fierce and determined children confront the hardships of Ban Vinai refugee camp, where the author lived as a child. "—Tanja Bauerle
"Yang captivates with wonderful imagery, evoking emotions for the reader parallel to the characters' own experiences. "—Rochester Post-Bulletin 
"A tale of child heroes in a Hmong refugee camp that is worth cheering for."—Walking Brain Cells 
"A book that is rich with discussion points, not just about life in a camp, but also the importance of familial relationships, advocacy, and community support."—The Tiny Activist
"The heartfelt, inspiring book, Yang Warriors, takes us on this journey through the eyes of award-winning author Kao Kalia Yang with illustration by Billy Thao."—International Examiner 
Univ Of Minnesota Press, 9781517907983, 40pp.
Publication Date: April 13, 2021
About the Author
Kao Kalia Yang is author of The Latehomecomer: A Hmong Family Memoir, winner of Minnesota Book Awards in both Creative Nonfiction/Memoir and Reader's Choice, and a finalist for the PEN USA Award in Creative Nonfiction as well as the Asian Literary Award in Nonfiction. Her second book, The Song Poet, won a Minnesota Book Award and was a finalist for the National Book Critics Circle Award, the Chautauqua Prize, the PEN USA Award in Nonfiction, and the Dayton's Literary Peace Prize. Her first children's book, A Map into the World, is an ALA Notable Book, a Charlotte Zolotow Book Award honoree, and a winner of the Minnesota Book Award in Children's Literature. The Shared Room, illustrated by Xee Reiter, was published by Minnesota in 2020.
Billy Thao is a Hmong American artist who was born and raised in Minnesota. This is his first book.