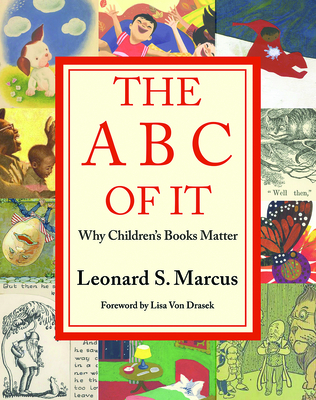 The ABC of It
Why Children's Books Matter
Paperback

* Individual store prices may vary.
Description
Original artwork and materials explore children's literature and its impact in society and culture over time

A favorite childhood book can leave a lasting impression, but as adults we tend to shelve such memories. For fourteen months beginning in June 2013, more than half a million visitors to the New York Public Library viewed an exhibition about the role that children's books play in world culture and in our lives. After the exhibition closed, attendees clamored for a catalog of The ABC of It as well as for children's literature historian Leonard S. Marcus's insightful, wry commentary about the objects on display. Now with this book, a collaboration between the University of Minnesota's Kerlan Collection of Children's Literature and Leonard Marcus, the nostalgia and vision of that exhibit can be experienced anywhere. 
The story of the origins of children's literature is a tale with memorable characters and deeds, from Hans Christian Andersen and Lewis Carroll to E. B. White and Madeleine L'Engle, who safeguarded a place for wonder in a world increasingly dominated by mechanistic styles of thought, to artists like Beatrix Potter and Maurice Sendak who devoted their extraordinary talents to revealing to children not only the exhilarating beauty of life but also its bracing intensity. Philosophers like John Locke and Jean-Jacques Rousseau and educators such as Johann Comenius and John Dewey were path-finding interpreters of the phenomenon of childhood, inspiring major strands of bookmaking and storytelling for the young. Librarians devised rigorous standards for evaluating children's books and effective ways of putting good books into children's hands, and educators proposed radically different ideas about what those books should include. Eventually, publishers came to embrace juvenile publishing as a core activity, and pioneering collectors of children's book art, manuscripts, correspondence, and ephemera appeared—the University of Minnesota's Dr. Irvin Kerlan being a superb example. Without the foresight and persistence of these collectors, much of this story would have been lost forever.  
Regarding children's literature as both a rich repository of collective memory and a powerful engine of cultural change is more important today than ever.
Praise For The ABC of It: Why Children's Books Matter…
"This is a book for the child in all of us—an exquisitely rendered volume that underscores the power of words and pictures to inspire, build, and transform."—Andrea Davis Pinkney, New York Times bestselling author of A Poem for Peter: The Story of Ezra Jack Keats and the Creation of The Snowy Day
"WOW. Fascinating. Illuminating. And deeply entertaining. Required reading for anyone interested in children, reading, and/or children's reading."—Jon Scieszka, Inaugural National Ambassador for Young People's Literature
"This is a beautiful reimagining of a milestone exhibition on children's literature. Exquisitely rendered and inclusive in its vision. Highly recommended."—Lynne M. Thomas, Head of the Rare Book and Manuscript Library at the University of Illinois at Urbana-Champaign
"Eloquent, illuminating, and often revelatory, this thematic crash course in the history of iconic children's books is a visual feast."—Judy Freeman, author of The Handbook for Storytelling
"Marcus's text intriguingly tracks deep connections between children's books and their larger society, around the world and across time."—Paul O. Zelinsky, award-winning author and illustrator
"This is a piece of literature that should be in every school of education library and required reading for any student studying children's literature. Outstanding."—Cynthia Weill, Director of the Center for Children's Literature at Bank Street College of Education
"The catalogue is not a history of children's literature but rather a review of how children's books reflect the changing adult view of children. Set out in three thematic sections—"Visions of Childhood," "Off the Shelf: Giving and Getting Books," and "The Art of the Picture Book"—the exhibit and this catalogue touch on many wide-ranging topics. Lavishly illustrated in color, the catalogue preserves the content off an important exhibit and at the same time features an important collection." —CHOICE
Kerlan Collection at the Univ of Minn, 9781517908010, 240pp.
Publication Date: February 15, 2019
About the Author
Leonard S. Marcus is one of the world's leading authorities on children's books and illustration. Among his many books are Minders of Make-Believe and Margaret Wise Brown: Awakened by the Moon. A frequent contributor to the New York Times Book Review, he is on the faculty of New York University and the School of Visual Arts. 
Lisa Von Drasek is curator of the Children's Literature Research Collections at the University of Minnesota.
or
Not Currently Available for Direct Purchase