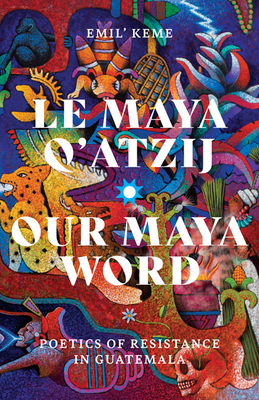 Le Maya Q'atzij/Our Maya Word
Poetics of Resistance in Guatemala (Indigenous Americas)
Paperback

* Individual store prices may vary.
Other Editions of This Title:
Hardcover (6/8/2021)
Description
Bringing to the fore the voices of Maya authors and what their poetry tells us about resistance, sovereignty, trauma, and regeneration 
In 1954, Guatemala suffered a coup d'etat, resulting in a decades-long civil war. During this period, Indigenous Mayans were subject to displacement, disappearance, and extrajudicial killing. Within the context of the armed conflict and the postwar period in Guatemala, K'iche' Maya scholar Emil' Keme identifies three historical phases of Indigenous Maya literary insurgency in which Maya authors use poetry to dignify their distinct cultural, political, gender, sexual, and linguistic identities.
Le Maya Q'atzij / Our Maya Word employs Indigenous and decolonial theoretical frameworks to critically analyze poetic works written by ten contemporary Maya writers from five different Maya nations in Iximulew/Guatemala. Similar to other Maya authors throughout colonial history, these authors and their poetry criticize, in their own creative ways, the continuing colonial assaults to their existence by the nation-state. Throughout, Keme displays the decolonial potentialities and shortcomings proposed by each Maya writer, establishing a new and productive way of understanding Maya living realities and their emancipatory challenges in Iximulew/Guatemala.
This innovative work shows how Indigenous Maya poetics carries out various processes of decolonization and, especially, how Maya literature offers diverse and heterogeneous perspectives about what it means to be Maya in the contemporary world.
Praise For Le Maya Q'atzij/Our Maya Word: Poetics of Resistance in Guatemala (Indigenous Americas)…
"This book offers brilliantly conceptualized and well-grounded readings on the work of Maya poets in times of colonial, patriarchal, and racial violence in Guatemala. Emil' Keme's critical journey is permeated by a powerful sense of anti-colonial resistance and an imaginary of Indigenous liberation that is both poetic and political."—Luis E. Cárcamo-Huechante, founding member of the Comunidad de Historia Mapuche
"With Le Maya Q'atzij/Our Maya Word, Emil' Keme has given us a brilliant analysis of how Maya literary production constitutes resistance to the ongoing imposition of settler capitalist colonization in Iximulew/Guatemala. From the perspective of a Maya scholar, Keme offers a sophisticated and insightful read of works by K'iche', Kaqchikel, Q'eq'chi', Q'anjob'al, and Pop'ti poets in their political context, guided throughout by a clear and decisive love of le Maya tzij, or the Maya word. This book makes a valuable contribution not only to Maya studies and literary studies, but also to Native and Indigenous studies hemispherically and globally."—Shannon Speed (Chickasaw), University of California, Los Angeles
Univ Of Minnesota Press, 9781517908089, 264pp.
Publication Date: June 8, 2021
About the Author
Emil' Keme (a.k.a., Emilio del Valle Escalante) is an Indigenous K'iche' Maya scholar and associate professor of Spanish at the University of North Carolina, Chapel Hill. He is author of Maya Nationalisms and Postcolonial Challenges in Guatemala. In 2020, he was awarded Cuba's Casa de las Américas literary criticism prize for the Spanish version of Le Maya Q'atzij / Our Maya Word.
or
Not Currently Available for Direct Purchase