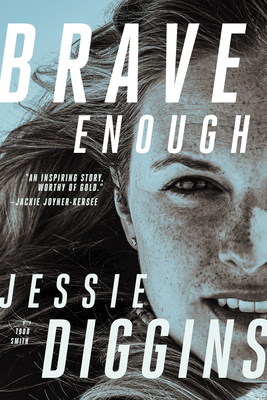 Brave Enough
Paperback

* Individual store prices may vary.
Other Editions of This Title:
Digital Audiobook (6/15/2020)
Hardcover (3/10/2020)
Description
Travel with Olympic gold medalist Jessie Diggins on her compelling journey from America's heartland to international sports history, navigating challenges and triumphs with rugged grit and a splash of glitter

 
Pyeongchang, February 21, 2018. In the nerve-racking final seconds of the women's team sprint freestyle race, Jessie Diggins dug deep. Blowing past two of the best sprinters in the world, she stretched her ski boot across the finish line and lunged straight into Olympic immortality: the first ever cross-country skiing gold medal for the United States at the Winter Games. The 26-year-old Diggins, a four-time World Championship medalist, was literally a world away from the small town of Afton, Minnesota, where she first strapped on skis. Yet, for all her history-making achievements, she had never strayed far from the scrappy 12-year-old who had insisted on portaging her own canoe through the wilderness, yelling happily under the unwieldy weight on her shoulders: "Look! I'm doing it!"
In Brave Enough, Jessie Diggins reveals the true story of her journey from the American Midwest into sports history. With candid charm and characteristic grit, she connects the dots from her free-spirited upbringing in the woods of Minnesota to racing in the bright spotlights of the Olympics. Going far beyond stories of races and ribbons, she describes the challenges and frustrations of becoming a serious athlete; learning how to push through and beyond physical and psychological limits; and the intense pressure of competing at the highest levels. She openly shares her harrowing struggle with bulimia, recounting both the adversity and how she healed from it in order to bring hope and understanding to others experiencing eating disorders. 
Between thrilling accounts of moments of triumph, Diggins shows the determination it takes to get there—the struggles and disappointments, the fun and the hard work, and the importance of listening to that small, fierce voice: I can do it. I am brave enough.
Praise For Brave Enough…
"Jessie Diggins was a world-class athlete long before she became an Olympic gold medalist. In Brave Enough, she shows world-class courage by sharing the truth about her eating disorder, her therapy, and the multitude of challenges, doubts, fears, and assorted bogeymen that are so often an untold part of the journey to greatness. She deserves another gold medal for her honesty and her inspiration."—Wayne Coffey, New York Times bestselling author of The Boys of Winter
"I'm honored to have played a role in inspiring Jessie on her journey to Olympic Gold. Brave Enough is a befitting title for this brutally honest and powerful story. As an athlete, Jessie was brave enough to win on the world's biggest sporting stage. As a writer, she is brave enough to share a raw, heart-wrenching, nothing-held-back look at the struggles she went through to succeed. It's an inspiring story, worthy of gold."—Jackie Joyner-Kersee
"Already an inspiration to us all, Jessie once again shows her courage to leave it all on the track by sharing her deeply personal story. Readers will be encouraged by how one woman created a path forward for herself—and helped and uplifted so many in the process."—Ann Bancroft
"Brave Enough is a powerful story that shows that striving for excellence can be essential in sport, yet not even Olympic champions are immune from its unforeseen destructive consequences. With admirable vulnerability, Jessie demonstrates how to be a leader and 'best teammate' while also being open to help and support from others. Her story motivates all of us, and she gives us hope and real tools to tackle our biggest challenges. I have never been more proud of my teammate and friend . . . not only has Jessie defeated foes on the race trails but she has courageously conquered the demons in her mind to become a true champion. She is an inspiration for everyone!"—Kikkan Randall, Olympic Champion and World Champion

"Jessie has one of the most infectiously positive and bubbly personalities of anyone I have ever met. That, combined with her fierce drive and unwavering grit, is what makes her an inspiration to so many people, including myself, but I never realized just how inspiring she truly is until I read this book. World, meet the force that is Jessie Diggins."—Mikaela Shiffrin, Olympic Champion and World Champion
"Diggins bravely yet matter-of-factly shares details about her success in overcoming bulimia. By sharing this story, Diggins will help educate readers and fight the stigma facing those suffering from eating disorders. An uplifting sports memoir told with compassion and vulnerability."—Booklist
"Diggins has made a mark in one of the toughest races in the sport. . . . Diggins is known for wearing cheek glitter and breaking out in improvised dancing, but she also wrote a memoir last year, "Brave Enough," in which she described conquering an eating disorder in her teens."—New York TImes
"It is a thrilling account and a clear statement about the power of human passion."—Red Wing Republican Eagle
"The book reads as if you are sitting on the couch with her as she tells her story. What Diggins' book conveys is the fact that even Olympic-gold-medal-winning athletes are human, not untouchable demi-gods."—TeamUSA.org
"Brave Enough does what a memoir should do. It not only tells the reader what happened, but what it meant to the author's understanding of her life and ambitions."—St. Paul Pioneer Press
"It is just what the doctor ordered if you need a pick-me-up."—XCSkiResorts.com
"There's enough depth, drama, interaction, and heart stopping episodes in Brave Enough to make the whole book transferable to screen."—Ice a Trail
"If you want someone worth rooting for, look no further."—New Yorker
Univ Of Minnesota Press, 9781517908201, 296pp.
Publication Date: August 10, 2021
About the Author
A two-time Olympian, Jessie Diggins is the most decorated U.S. cross-country athlete in World Championship history: she is the first American woman to win the World Cup Distance title and the World Cup Overall Champion title, and she has earned thirty-five medals in World Cup competitions. In 2021, she became the first American to win the prestigious Tour de Ski.
Todd Smith is author of Hockey Strong. His sportswriting has contributed to Minnesota Hockey, USA Hockey, and the Minnesota Wild on the NHL Network. His work has been published in The Rake Magazine, Minnesota Monthly, and Twin Cities METRO Magazine, and he has been a commentator on Minnesota Public Radio's 89.3 The Current and WCCO Radio.