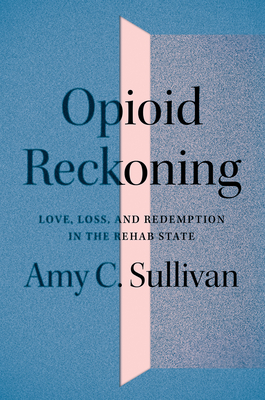 Opioid Reckoning
Love, Loss, and Redemption in the Rehab State
Hardcover

* Individual store prices may vary.
Other Editions of This Title:
Paperback (10/25/2022)
Description
Examines the complexity and the humanity of the opioid epidemic

America's opioid epidemic continues to ravage families and communities, despite intense media coverage, federal legislation, criminal prosecutions, and harm reduction efforts to prevent overdose deaths. More than 450,000 Americans have died from opioid overdoses since the late 1990s. In Opioid Reckoning, Amy C. Sullivan explores the complexity of the crisis through firsthand accounts of people grappling with the reverberating effects of stigma, treatment, and recovery. 
Nearly everyone in the United States has been touched in some way by the opioid epidemic, including the author and her family. Sullivan uses her own story as a launching point to learn how the opioid epidemic challenged longstanding recovery protocols in Minnesota, a state internationally recognized for pioneering addiction treatment. By centering the voices of many people who have experienced opioid use, treatment, recovery, and loss, Sullivan exposes the devastating effects of a one-size-fits-all approach toward treatment of opioid dependency. Taking a clear-eyed, nonjudgmental perspective of every aspect of these issues—drug use, parenting, harm reduction, medication, abstinence, and stigma—Opioid Reckoning questions current treatment models, healthcare inequities, and the criminal justice system. Sullivan also imagines a future where anyone suffering an opioid-use disorder has access to the individualized care, without judgment, available to those with other health problems. 
Opioid Reckoning presents a captivating look at how the state that invented "rehab" addresses the challenges of the opioid epidemic and its overdose deaths while also taking readers into the intimate lives of families, medical and social work professionals, grassroots activists, and many others impacted by the crisis who contribute their insights and potential solutions. In sharing these stories and chronicling their lessons, Sullivan offers a path forward that cultivates empathy, love, and hope for anyone affected by chaotic drug use and its harms.
Praise For Opioid Reckoning: Love, Loss, and Redemption in the Rehab State…
"From the Land of 10,000 Rehabs comes this generous and heartening testament to the power of empathy and the wisdom of harm reduction. Living with Amy Sullivan's stories of 'trauma parenting,' we are compelled to take stock of how our own lives and losses intertwine with those who people these pages."—Nancy D. Campbell, author of OD: Naloxone and the Politics of Overdose
"An important contribution that documents the lives of those faced with America's overdose crisis in the state that originated the twelve-step/abstinence treatment approach. Addiction care must change—and this book shows why."—Maia Szalavitz, author of Unbroken Brain: A Revolutionary New Way of Understanding Addiction and Undoing Drugs: The Untold Story of Harm Reduction and the Future of Addiction
"In this timely book, Amy C. Sullivan illuminates how the public health crisis of opioid use disorder cannot be adequately conveyed through abstract statistics. Rather, it is located in childhood bedrooms and around kitchen tables, affecting families and especially mothers. The personal narratives and oral histories Sullivan weaves together tell an indelible story of the trauma, stigma, and, above all, humanity of the experience of addiction and recovery."—Sarah Gollust, University of Minnesota School of Public Health
Univ Of Minnesota Press, 9781517908638, 288pp.
Publication Date: October 19, 2021
About the Author
Amy C. Sullivan, PhD, is a professor of history at Macalester College.
or
Not Currently Available for Direct Purchase