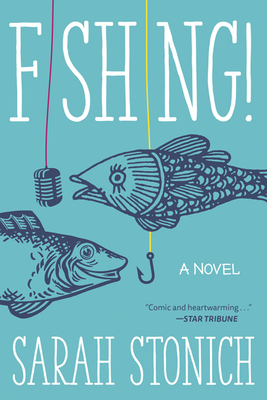 Fishing!
A Novel
Paperback

* Individual store prices may vary.
Description
A hilarious saga of fishing, family, and three generations of tough, independent women—the first in a trilogy 

Having fled the testosterone-soaked world of professional sport fishing, thirty-something RayAnne Dahl is navigating a new job as a consultant for the first all-women talk show about fishing on public television (or, as one viewer's husband puts it, "Oprah in a boat"). After the host bails, RayAnne lands in front of the camera and out of her depth at the helm of the show. Is she up for the challenge? Meanwhile, her family proves as high-maintenance as her fixer-upper house and her clingy rescue dog. Her dad, star of the one-season Big Rick's Bass Bonanza, is on his sixth wife and falling off the wagon and into RayAnne's career path; her mother, a new-age aging coach for the menopausal rich, provides endless unwanted advice; and her beloved grandmother Dot—whose advice RayAnne needs—is far away and far from well. 
But as RayAnne says, "I'm a woman, I fish. Deal with it." And just when things seem to be coming together—the show is an unlikely hit; she receives the admiration of a handsome sponsor (out of bounds as he is, but definitely in the wings); ungainly house and dog are finally in hand—RayAnne's world suddenly threatens to capsize, and she's faced with a gut-wrenching situation and a heartbreaking decision. 
First published in 2015 under a pseudonym, this first installment in a trilogy filled with hilarity and heartbreak unspools with the gentle wit and irresistible charm that readers of Sarah Stonich have come to expect. Fishing! eases us into unsuspected depths as it approaches the essential question . . . when should life be steered by the heart, not the rules? 
Praise For Fishing!: A Novel…
"You'll wish you could spend an afternoon fishing with RayAnne, but diving into this witty, charming novel is the next best thing."—Sarah Pekkanen, author of Things You Won't Say
"Poignant and honest, funny and wise . . . a novel to cherish. Populated with authentic and engaging characters, written with style and ease, this novel taught me that happiness can be found down unexpected paths, and that the meaning of life exists in the simplest of things. I loved every moment I spent with this delightfully witty, refreshingly progressive read."—Marissa Stapley, author of Mating for Life
"A lighthearted, comedic novel for women that isn't all about landing a man (fishing pun intended)."—Star Tribune
"A compelling and deftly crafted novel from beginning to end."—Midwest Book Review
"Told in spot-on, often hilarious dialogue that brings these nice people to lively, lovely life."—St. Paul Pioneer Press
"Recommended for readers who appreciate female characters, family drama, an absorbing sense of place, and, of course, fishing."—Library Journal
"The real gem of this novel is its honest depiction of family dynamics. Fishing! shows the reader that dysfunction doesn't necessarily equate with misery; it is possible not only to accept, but also enjoy one's family, warts and all."—The Roanoke Times
"Sarah Stonich is at the height of her powers, having fine-tuned her comedic voice with Vacationland and Laurentian Divide. Fishing! is laugh-out-loud funny, but don't be mistaken—Stonich will take you into the deep. Her understanding of the complexity of family, dysfunctional relationships, and difficult people make Fishing! more than a feel-good read. The best part—we can expect book #2 in the series in the near future."—Superior Reads
"Her humor is spot on and laugh out loud funny. I would love to see this one made into a film!"—Required Reading
"Fishing is a hilarious saga of fishing, family and three generations of tough, independent women, filled with charm, wit, heartbreak and honesty."—Northern Wilds 
Univ Of Minnesota Press, 9781517908980, 280pp.
Publication Date: March 24, 2020
About the Author
Sarah Stonich is the best-selling author of These Granite Islands, which has been translated into seven languages and shortlisted for France's Grand Prix des Lectrices de Elle; the critically acclaimed novel The Ice Chorus; and a memoir, Shelter: Off the Grid in the Mostly Magnetic North. Her novel-in-stories, Vacationland, is the first book in her Northern Trilogy, followed by Laurentian Divide, winner of the Minnesota Book Award for Fiction. She lives in Minneapolis.