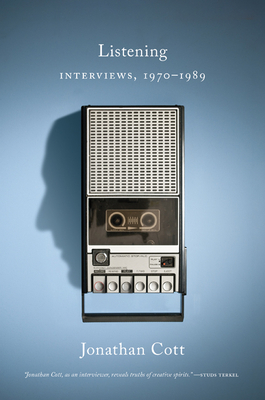 Listening
Interviews, 1970–1989
Hardcover

* Individual store prices may vary.
Description
A wide-ranging collection of interviews and profiles from twenty years of Jonathan Cott's remarkable writings  
"All I really need to do is simply ask a question," Jonathan Cott occasionally reminds himself. "And then listen." It sounds simple, but in fact few have taken the art of asking questions to such heights—and depths—as Jonathan Cott, whom Jan Morris called "an incomparable interviewer," one whose skill, according to the great interviewer and oral historian Studs Terkel, "is artless yet impassioned and knowing." 
Collected here are twenty-two of Cott's most illuminating interviews that encourage readers to listen to film directors and musicians, actors and writers, scientists and visionaries. These conversations affirm the indispensable and transformative powers of the imagination and offer us new ways to view these lives and their worlds. What is it like to be Bob Dylan making a movie? Carl Sagan taking on the cosmos? Oliver Sacks doctoring the soul? John Lennon, on December 5, 1980? Elizabeth Taylor, ever? From Chinua Achebe to Dr. Seuss (Theodor Geisel), Federico Fellini to Werner Herzog, and Oriana Fallaci to Studs Terkel, Listening takes readers on a journey to discover not ways of life but ways to life. Within these pages,Cott proves himself to be, in the words of Brain Pickings's Maria Popova, "an interlocutor extraordinaire," drawing candid insights and profound observations from these inspired and inspiring individuals.
Praise For Listening: Interviews, 1970–1989…
"Jonathan Cott, as an interviewer, reveals truths of creative spirits."—Studs Terkel
"As far as I'm concerned, Jonathan Cott can drive the tour bus in the City of God. Knowledge, esoteric and exoteric, oozes out of his every pore."—Tom Robbins
"Jonathan Cott is in that rarefied group of writers who have elevated the very idea of the interview. His conversations with the wise, the brilliant, and the necessary are treasures. He has that special ability to humanize people without destroying their magic."—Richard Gere
"An incomparable interviewer, who seems to me to have given the interviewing art a new dimension."—Jan Morris
"Cott must be the ideal interviewer. He comes to his subjects so steeped in their work that the ensuing conversation is much more nearly a dialogue than an interview; a dialogue, moreover, full of nuance and connection, in which Cott and his subject together explore the meaning and the sources of the author's work. Lucky the authors who can find such a critic."—Anne Scott MacLeod, The Washington Post
"Jonathan Cott is an admirable, readable, literate interviewer. He has even managed to construct something that looks rather like a new form, the essay-interview."—Larry McMurtry, The Washington Post
"Jonathan Cott's range is amazing. He is not only a sympathetic interviewer who can identify with his subjects and get the best out of them, but a highly cultured individual. . . . Anyone who is interested in the well-springs of creativity will find nuggets of gold in [his] interviews."—Anthony Storr, The Washington Post
"Cott is not only an extremely well-educated person of wide and varied interests and studies, but a spiritually concerned, poetic sensibility. He brings to each of these encounters an intense preparation which is almost contemplative in its consideration not only of the work of the subject, but of a wide range of quotes and materials relevant to it. By immersing himself in the individual flavor of a person and her/his achievements, he is able to draw forth revelations of being and meaning that resonate far beyond the mere eliciting of information. Delight and wonder, courage and imagination, are the touchstones of the worlds to which he guides us."—David Harris, New Age
"What, students in writing courses sometimes ask, is the best way to conduct an interview? Orthodox answers are hard to come by. Try to spend as much time with your subject as you can. See him in different contexts. Meet the people who matter to him. Read his favorite books. Keep him talking, and write down what he says. Break bread with him. And, while you're at it, read [his book] Forever Young."—Jane Howard, Mademoiselle
"An interlocutor extraordinaire."—Maria Popova, Brain Pickings
Univ Of Minnesota Press, 9781517909017, 360pp.
Publication Date: April 21, 2020
About the Author
Jonathan Cott is a contributing editor at Rolling Stone and has written for The New York Times, The Washington Post, and The New Yorker. He is author of twenty books, including Pipers at the Gates of Dawn: The Wisdom of Children's Literature; Days That I'll Remember: Spending Time with John Lennon and Yoko Ono; Susan Sontag: The Complete Rolling Stone Interview; and Dinner with Lenny: The Last Long Interview with Leonard Bernstein. He lives in New York City.
or
Not Currently Available for Direct Purchase