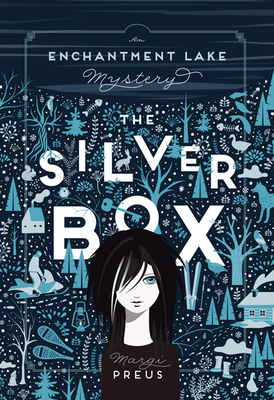 The Silver Box
An Enchantment Lake Mystery
Hardcover

* Individual store prices may vary.
Other Editions of This Title:
Paperback (10/12/2021)
Description
In the final Enchantment Lake mystery, Francie's search for the truth about her mother—and herself—plunges her into danger during a North Woods winter

When she wakes in her aunts' cold cabin on the shore of Enchantment Lake, Francie remembers: everything about her life has changed. Or is about to. Or just might. Everything depends on the small, engraved silver box that she now possesses—if only she can follow its cryptic clues to the whereabouts of her missing mother and understand, finally, just maybe, the truth about who she really is. 
Francie, it turns out, has a lot to learn, and this time the lessons could be deadly. Her search for answers takes her and her best friends Raven and Jay as far afield as an abandoned ranch in Arizona and as close to home as a sketchy plant collector's conservatory and a musty old museum where shadows lurk around every display case. At the heart of it all is a crime that touches her own adopted North Woods: thieves dig up fragile lady's slippers, peel bark from birches, strip moss off trees, cut down entire forests of saplings to sell for home décor. But Francie is up against no ordinary plant theft. One ominous clue after another reveal that she possesses something so rare and so valuable that some people are willing to do anything to get it. When Francie's investigation leads her into the treacherously cold and snowy North Woods, she finds out  that she too is being pursued.
Praise For The Silver Box: An Enchantment Lake Mystery…
"Margi Preus shows her deep knowledge of and appreciation for Minnesota while telling an engaging story with puzzles and action and heart. The Silver Box is truly a celebration of our state—from its North Woods to its Twin Cities landmarks."—Kurtis Scaletta, author of Lukezilla Beats the Game
"This is a great end to what was a really enjoyable YA adventure/mystery series. A fun, entertaining read."—The Book Lover's Boudoir
"A modern Nancy Drew replacement grounded in current technology but largely reliant on brain power and courage."—Kirkus Reviews
"I think mystery lovers will definitely enjoy the pacing of this book as well as its unforgettable characters and charming Northwoods setting. It's an excellent series to get lost in if you're looking for an engrossing story or something to distract from reality."—The Story Sanctuary 
"Francie continues to get herself and others into precarious situations. However, in this book she comes across more consequences to her choices than in the previous books. More details are unraveled and the reader gets to know the characters on deeper levels. That being said, there are still twists and turns all along the way up to the end of the book. As with the other books in the series, this is for mystery lovers and young sleuths. However, this is also more of a coming of age and self-discovery book."—Compass Book Ratings
"As always, Margi's engaging prose carries the story."—Lake Superior Magazine
"Filled with humor and suspense, The Silver Box is the final book in the Enchantment Lake Mystery trilogy."—Northern Wilds 
Univ Of Minnesota Press, 9781517909680, 200pp.
Publication Date: October 6, 2020
About the Author
Margi Preus is a New York Times bestselling author of books for young readers, including the Newbery Honor–winning Heart of a Samurai. Among her other novels are Village of Scoundrels, Shadow on the Mountain, West of the Moon, and The Bamboo Sword, as well as the previous two books in the Enchantment Lake series, Enchantment Lake and The Clue in the Trees, which were published by the University of Minnesota Press and received the Midwest Book Award and the Midwest Booksellers Choice Award. She lives in Duluth.