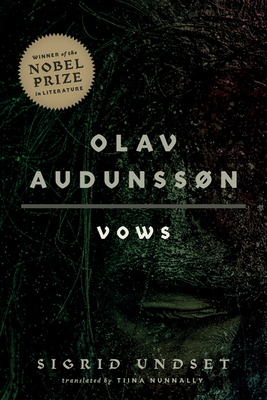 Olav Audunssøn
I. Vows
Paperback

* Individual store prices may vary.
Description
The initial volume in the Nobel Prize–winning author's tumultuous, epic story of medieval Norway—the first new English translation in nearly a century

As a child, Olav Audunssøn is given by his dying father to an old friend, Steinfinn Toressøn, who rashly promises to raise the boy as his foster son and eventually marry him to his own daughter, Ingunn. The two children, very different in temperament, become both brother and sister and betrothed. In the turbulent thirteenth-century Norway of Sigrid Undset's epic masterpiece, bloodlines and loyalties often supersede law, and the crown and the church vie for power and wealth. Against this background and the complicated relationship between Olav and Ingunn, a series of fateful decisions leads to murder, betrayal, exile, and disgrace. In Vows, the first book in the powerful Olav Audunssøn tetralogy, Undset presents a richly imagined world split between pagan codes of retribution and the constraints of Christian piety—all of which threaten to destroy the lives of two young people torn between desires of the heart and the dictates of family and fortune.  

As she did when writing her earlier and bestselling epic Kristin Lavransdatter, Sigrid Undset immersed herself in the legal, religious, and historical documents of medieval Norway to create in Olav Audunssøn remarkably authentic and compelling portraits of Norwegian life in the Middle Ages. In this new English edition, renowned Scandinavian translator Tiina Nunnally again captures Undset's fluid prose, conveying in an engaging lyrical style the natural world, complex culture, and fraught emotional territory of Olav and Ingunn's dramatic story.
Praise For Olav Audunssøn: I. Vows…
"Sigrid Undset's gift was to take readers inside the hearts and minds of people who lived and worked, struggled and connived in the fjords, villages, farms, and estates of thirteenth-century Norway. Tiina Nunnally's gift is to bring these characters to today's readers in clear, lyrical prose. Here we have the story of Olav Audunssøn and Ingunn Steinfinnsdatter, betrothed as children and constantly challenged by people who turn their sweet and simple love story into a fraught, twenty-year journey to that final kiss. No one but Undset could have written Olav Audunssøn, and no one but Nunnally could do it justice in translation. Read it—and spend time in the thirteenth century as it really was."—Nicola Griffith, author of Hild
"Tiina Nunnally is that rarest phenomenon: a translator whose translations sound entirely natural, idiomatic, and true. This new translation of the first volume of Sigrid Undset's Olav Audunssøn is a heroic undertaking, which Nunnally has accomplished with her accustomed elegance and flair."—John Banville, author of Mrs. Osmond
"This tetralogy, less known and less beloved than Kristin Lavransdatter, may be Sigrid Undset's masterwork. Arthur G. Chater's translation is now nearly a century old. Calculatedly archaic and smoothly florid, it retains the charms of its time and place. This new version by Tiina Nunnally performs Undset in a blunter and terser style which would not be out of place in one of those Norse sagas whose grim ethos lives on in the midbrains of the characters. It is a style entirely in keeping with the bleakness of this story of an honorable man whose loving self-sacrifice calcifies his heart."—William T. Vollmann, author of The Lucky Star
"An engaging read on many levels." —Nicki J. Markus
Univ Of Minnesota Press, 9781517910488, 336pp.
Publication Date: November 10, 2020
About the Author
Sigrid Undset (1882–1949) was awarded the Nobel Prize in Literature in 1928, primarily for her epic novels set in Norway during the Middle Ages (the trilogy Kristin Lavransdatter, published in 1920–22, and the tetralogy Olav Audunssøn, which followed in 1925–27). She was a prolific writer of contemporary novels, essays, newspaper articles, autobiographical works, and children's stories. During World War II she lived in Brooklyn and wrote passionately about Norway's plight and the grim situation in Europe. She returned to her home, Bjerkebæk, in Lillehammer, Norway, and in 1947 she was awarded Norway's highest honor, the Grand Cross of the Order of Saint Olav for her "distinguished literary work and for her service to her country."

Tiina Nunnally is the award-winning translator of many works of Scandinavian literature, including Sigrid Undset's Marta Oulie (Minnesota, 2014) and Kristin Lavransdatter, which was awarded the PEN/Book-of-the-Month Club translation prize. She has translated fairy tales by Hans Christian Andersen, Swede Hollow by Ola Larsmo (Minnesota, 2019), and The Complete and Original Norwegian Folktales of Asbjørnsen and Moe (Minnesota, 2019). In 2013 she was appointed Knight of the Royal Norwegian Order of Merit for her efforts on behalf of Norwegian literature abroad.