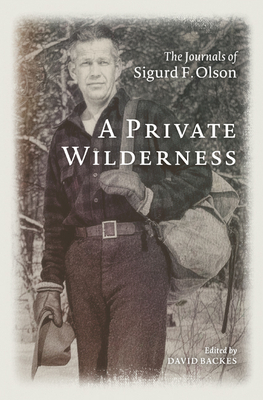 A Private Wilderness
The Journals of Sigurd F. Olson
Hardcover

* Individual store prices may vary.
Description
The personal diaries of one of America's best-loved naturalists, revealing his difficult and inspiring path to finding his voice and becoming a writer 
Few writers are as renowned for their eloquence about the natural world, its power and fragility, as Sigurd F. Olson (1899–1982). Before he could give expression to The Singing Wilderness, however, he had to find his own voice. It is this struggle, the painstaking and often simply painful process of becoming the writer and conservationist now familiar to us, that Olson documented in the journal entries gathered here. 
Written mostly during the years from 1930 to 1941, Olson's journals describe the dreams and frustrations of an aspiring writer honing his skills, pursuing recognition, and facing doubt while following the academic career that allowed him to live and work even as it consumed so much of his time. But even as he speaks with immediacy and intensity about the conditions of his apprenticeship, Olson can be seen developing the singular way of observing and depicting the natural world that would bring him fame—and also, more significantly, alert others to the urgent need to understand and protect that world. Author of Olson's definitive biography, editor David Backes brings a deep knowledge of the writer to these journals, providing critical context, commentary, and insights along the way.
When Olson wrote, in the spring of 1941, "What I am afraid of now is that the world will blow up just as I am getting it organized to suit me," he could hardly have known how right he would prove to be. It is propitious that at our present moment, when the world seems once more balanced on the precipice, we have the words of Sigurd F. Olson to remind us of what matters—and of the hard work and the wonder that such a reckoning requires. 
Praise For A Private Wilderness: The Journals of Sigurd F. Olson…
"There is an innocent romance in Olson's essays, a sincere touch of the spiritual." —The Wall Street Journal 

"A revelation of Olson's personal diaries and his struggles to balance his life's passion — writing about nature, about the outdoors — with his job as a teacher, his responsibilities as a husband and father and his role as a national leader in the growing movement to preserve wild places."—Duluth News Tribune
"The first decades of Sigurd Olson's writing life were filled with frustration and hope, failure and doubt, and finally, publication. The new collection of his journals from this painful and formative time reveals a writer whose life was defined by the struggle between his calling and his many commitments."—Quetico Superior Wilderness News 
"While those journal entries were haphazard, often on scraps of paper, usually dated, but sometimes not, they captured [Olson's] thoughts about the wilderness he loved and how he wanted to be the writer who shared those experiences with readers."—Steve Gardiner 
"For the voice of a man who spent his life in more familiar wild country, seek out A Private Wilderness."—Minnesota Alumni 
Univ Of Minnesota Press, 9781517910952, 376pp.
Publication Date: June 1, 2021
About the Author
Sigurd F. Olson introduced generations of Americans to the importance of wilderness. He served as president of the Wilderness Society and the National Parks Association and as a consultant to the federal government on wilderness preservation. He earned many honors, including the highest possible awards from the Sierra Club, the National Wildlife Federation, and the Izaak Walton League. The first of his many influential books was The Singing Wilderness (1956; reprint available from Minnesota). 
David Backes is author of A Wilderness Within: The Life of Sigurd F. Olson and editor of Olson's The Meaning of Wilderness: Essential Articles and Speeches, both from Minnesota. In 2015 he retired as professor of journalism and mass communication at the University of Wisconsin, Milwaukee.