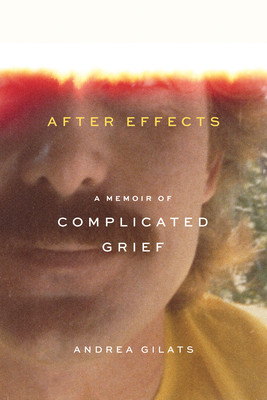 After Effects
A Memoir of Complicated Grief
Paperback

* Individual store prices may vary.
Description
An intensely moving and revelatory memoir of enduring and emerging from exceptional grief

To grieve after a profound loss is perfectly natural and healthy. To be debilitated by grief for more than a decade, as Andrea Gilats was, is something else. In her candid, deeply moving, and ultimately helpful memoir of breaking free of death's relentless grip on her life, Gilats tells her story of living with prolonged, or "complicated," grief and offers insight, hope, and guidance to others who suffer as she did. 
Thomas Dayton, Andrea Gilats's husband of twenty years, died at 52 after a five-month battle with cancer. In After Effects Gilats describes the desolation that followed and the slow and torturous twenty-year journey that brought her back to life. In the two years immediately following his death, Gilats wrote Tom daily letters, desperately trying to maintain the twenty-year conversation of their marriage. Excerpts from these letters reveal the depth of her despair but also the glimmer of an awakening as they also trace a different, more typical course of the grief experienced by one of Gilats's colleagues, also widowed. Gilats's struggle to rescue herself takes her through the temptation of suicide, the threat of deadly illness, the overwhelming challenges of work, and the rigor of learning and eventually teaching yoga, to a moment of reckoning and, finally, reconciliation to a life without her beloved partner. Her story is informed by the lessons she learned about complicated grief as a disorder that, while intensely personal, can be defined, grappled with, and overcome.
Though complicated grief affects as many as one in seven of those stricken by the loss of a close loved one, it is little known outside professional circles. After Effects points toward a path of recuperation and provides solace along the way—a service and a comfort that is all the more timely and necessary in our pandemic-ravaged world of loss and isolation.
Praise For After Effects: A Memoir of Complicated Grief…
"I am enormously grateful that the world is finally welcoming a deeper and more complex understanding about grief and grieving. Andrea Gilats makes a vital contribution with this honest account of her husband's death and her long journey through complicated grief to arrive at her hard-won 'fringes of happiness.'"—Judith Barrington, bestselling author of Writing the Memoir: From Truth to Art

"Andrea Gilats has given us a beautifully written story of the heartbreaking problem of complicated grief that is now officially called prolonged grief disorder. Her detailed, honest account of almost two decades of intense suffering after the loss of her beloved life partner will help others understand that there is no shame in grieving in this way—that grief is a form of love. Importantly, though, there are ways to gently guide people like Andrea much sooner in the process to find ways to honor the deceased as well as the life of the bereaved they leave behind."—M. Katherine Shear, M.D., founder and director, Columbia University Center for Prolonged Grief

 
"In this illuminating, thoughtful and beautifully written memoir, Gilats takes us on her journey as she experienced, for 10 years, prolonged or "complicated" grief... When you finish the last paragraph you are going to think, "I'd like to meet this woman."—St. Paul Pioneer Press
"Gilats' story of loss, despair and eventual peace is a roadmap of despair and recovery... A brave memoir indeed!"—Minneapolis Star Tribune
Univ Of Minnesota Press, 9781517912185, 200pp.
Publication Date: February 15, 2022
About the Author
Andrea Gilats is a writer, educator, artist, and former yoga teacher who was the cofounder and longtime director of the University of Minnesota's legendary Split Rock Arts Program, a nationally renowned series of residential workshops in visual art and creative writing, as well as Split Rock Online Mentoring for Writers. She is author of Restoring Flexibility: A Gentle Yoga-Based Practice to Increase Mobility at Any Age and has written many articles about aging.