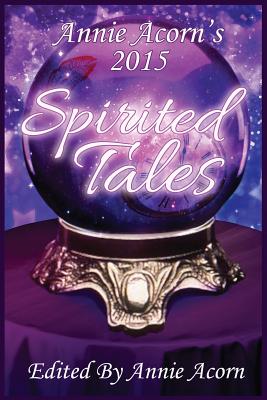 Annie Acorn's 2015 Spirited Tales (Paperback)
Createspace Independent Publishing Platform, 9781518686580, 146pp.
Publication Date: October 19, 2015
Other Editions of This Title:
Paperback (10/19/2015)
* Individual store prices may vary.
Description
Where can you find all the suspense, chills, ghosts, mediums, spirits, romance, and even humor that your heart desires? Where does reality end and imagination overtake us? Where do the kinder, gentler things disappear? Within the tightly crafted stories gathered for your enjoyment by Annie Acorn into Annie Acorn's 2015 Spirited Tales With their skillfully woven tales, members of From Women's Pens and From Gents' Pens have joined forces and forged a unique collection of stories that are sure to please those who enjoy a tingle running up and down their spines, as they face head-on those figments of their imaginations who no longer linger beneath their beds. Contains: The Halloween Clock by Annie Acorn Save My Soul by Peggy Teel Moira by Christina Paul The Horses of Paiute Canyon by D. A. Grady Perhaps by Denise Hays Parisian Ghosts by Charlotte Kent Thirteenth Door on the Left by Angel Nichols The Blind Seer by Susan Jean Ricci Just An Old Wives' Tale by Peggy Teel Time Will Tell by Annie Acorn.
About the Author
Annie Acorn is the pseudonym of a prolific, internationally beloved author, whose readership recognizes her mainly for her women's fiction, cozy mysteries and richly woven stories with a warm southern flair, such as Chocolate Can Kill and her Luna Lake Cabins romantic women's fiction series. She writes her romantic women's fiction/family saga Captain's Point Stories series as Charlotte Kent. She is a founding member of From Women's Pens - A Cooperative of Women Writers. Annie is the mother of two sons. She lives in the Washington, D.C. area, where she has done extensive technical writing as a contractor. She owned a tri-state medical outsourcing business for a number of years and was the Director of a behavioral healthcare firm. She once flipped a comic book and collectible retail company comprised of five stores, and she has managed cemeteries and funeral homes. She is the owner of Annie Acorn Publishing, LLC. Ms. Acorn has published in The Inspirational Writer, and she edited an in-house publication for the State of Mississippi. She is a contributor of ezine articles. In her spare time, Ms. Acorn enjoys reading, writing mysteries and romantic women's fiction, listening to classical music, playing cards, and spending time with her family and friends - often at a restaurant serving delicious food. Annie is the author of the blog at annieacorn.com. You can friend her on Facebook and tweet her at @Annie_Acorn. She will respond to your email sent to annieacorn11@gmail.com, and she invites you to visit her AAPub author's pages at: http: //annieacornpublishing.com/authors/annie-acorn and http: //annieacornpublishing.com/authors/charlotte-kent