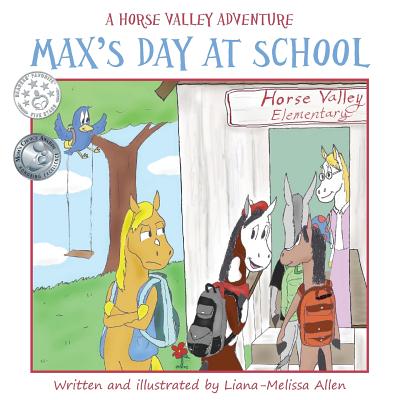 Max's Day at School
A Horse Valley Adventure (Book 3)
Paperback

* Individual store prices may vary.
Description
A MOM'S CHOICE AWARDS(R) Silver Medalist honoring excellence FIVE STARS READERS' FAVORITE(R) A children's picture book encouraging creativity and imagination in learning "Cute, clever, picture of a school in which learning, fun, and creativity are combined. The illustrations are colorful and appealing. The setting is idyllic and the story gentle and funny, and young children may be left wishing their school was more like Max's." -INDIE READER REVIEW"I enjoyed this book as much as I did Books 1 and 2 of the Horse Valley Adventure series. Liana-Melissa Allen provides children with not only a book of beautiful illustrations and a great story, but each child will leave with a variety of life lessons and solutions to some of the challenges that they face every day." - FIVE STARS READER'S FAVORITE(R)"Max's Day at School," gives good examples of a typical school day. Its example of Donkey helping the baby bird helps encourage empathy and helping others. 'Learning can be fun, ' school teacher Ms. Sugar tells a student, which sums up the focus of this children's book covering an important evergreen theme: back-to-school. The relatable theme is approached in an easy-to-understand manner, which children of different ages could relate to." -WRITER'S DIGEST REVIEW"Max's Day at School has a 'sweet and salty' energy to it." --CS Editor "I really loved this book. It is relevant to any age group in my opinion. I think that all teachers can learn something from Ms. Sugar. An ideal book for those who value imagination and the positive learning process." -- R. Wylie, Verified Amazon Customer, "Great Story, Great Illustrations This book was a breath of fresh air for us as parents, and our 5 1/2-year-old son absolutely loved it. This is a great, down-to-earth story with even better illustrations. I would highly recommend this book to any parent who is tired of reading the run-of-the-mill books to their kids " --- J. Imperato, Verified Amazon Customer QUOTES FROM THE BOOK'S TEACHER, MS. SUGAR: "Knowledge is food for your imagination, and imagination is something we definitely want to feed well and nurture." "If you believe in yourself, you can do anything you set your mind to, even if it seems too hard at first." THE STORY: It's time to go back to school in the magical land of Horse Valley Summer vacation has ended, and Jack, Max, Lax, and Donkey are going to Horse Valley Elementary. Jack is excited, but Max, Lax, and Donkey are wishing it were still summer. Max is especially disgruntled, just wanting to sleep in and watch TV. Then they meet their new teacher, Ms. Sugar, who actually makes learning fun In this third book of "A Horse Valley Adventure" series, Max learns that with the right teacher, a school can be exciting and fascinating. He, his brothers, and Donkey discover that everything they learn feeds the imagination and opens doors to limitless intriguing wonders.
Createspace Independent Publishing Platform, 9781518737374, 42pp.
Publication Date: May 21, 2016
About the Author
A multiple MOM'S CHOICE AWARDS(R) Winner and FIVE STARS READERS' FAVORITE author/illustrator, Liana-Melissa Allen has written and illustrated eight popular books for children and youth. She is a cartoonist, writer, and pianist. "I love to create characters that range from the whimsical to the anamorphic goofballs, to the awesomely abnormal humans. I write and illustrate children's books including a picture book series for ages 5 to 10 called 'A Horse Valley Adventure'. 'Max's Day at School' is my latest and third book of the series. I also have a 'Horse Valley Toons' comic strip on my website that follows the comical adventures of my Horse Valley crew, Max, Jack, Lax, Donkey, and the young mischievous Twiddle and Dwiddle. My home is in Southern California with a playful yellow lutino budgie named Peeps that is always willing to help me when I get stuck on a project. Visit my website at LMABOOKS.COM for more about my books and to download some of my Horse Valley characters for your young ones to color...and also enjoy my cartoons and some of my jazz and classical piano while there!"