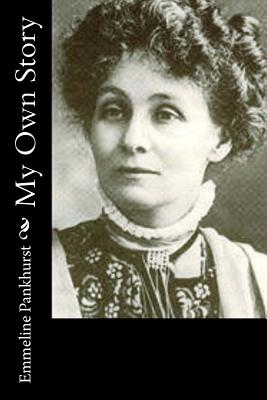 My Own Story
Paperback

* Individual store prices may vary.
Other Editions of This Title:
Paperback (1/28/2021)
Paperback (5/19/2015)
Paperback (1/31/2020)
Paperback (5/4/2015)
Paperback (7/3/2020)
Paperback (7/3/2020)
Paperback (11/13/2018)
Paperback (10/13/2018)
Paperback (10/16/2018)
Hardcover (10/16/2018)
Hardcover (8/8/2015)
Hardcover (8/8/2015)
Hardcover (11/13/2018)
Paperback (11/17/2020)
Description
CHAPTER I Those men and women are fortunate who are born at a time when a great struggle for human freedom is in progress. It is an added good fortune to have parents who take a personal part in the great movements of their time. I am glad and thankful that this was my case. One of my earliest recollections is of a great bazaar which was held in my native city of Manchester, the object of the bazaar being to raise money to relieve the poverty of the newly emancipated negro slaves in the United States. My mother took an active part in this effort, and I, as a small child, was entrusted with a lucky bag by means of which I helped to collect money. Young as I was-I could not have been older than five years-I knew perfectly well the meaning of the words slavery and emancipation. From infancy I had been accustomed to hear pro and con discussions of slavery and the American Civil War. Although the British government finally decided not to recognise the Confederacy, public opinion in England was sharply divided on the questions both of slavery and of secession. Broadly speaking, the propertied classes were pro-slavery, but there were many Pg 2]exceptions to the rule. Most of those who formed the circle of our family friends were opposed to slavery, and my father, Robert Goulden, was always a most ardent abolitionist. He was prominent enough in the movement to be appointed on a committee to meet and welcome Henry Ward Beecher when he arrived in England for a lecture tour. Mrs. Harriet Beecher Stowe's novel, "Uncle Tom's Cabin," was so great a favourite with my mother that she used it continually as a source of bedtime stories for our fascinated ears. Those stories, told almost fifty years ago, are as fresh in my mind to-day as events detailed in the morning's papers. Indeed they are more vivid, because they made a much deeper impression on my consciousness. I can still definitely recall the thrill I experienced every time my mother related the tale of Eliza's race for freedom over the broken ice of the Ohio River, the agonizing pursuit, and the final rescue at the hands of the determined old Quaker. Another thrilling tale was the story of a negro boy's flight from the plantation of his cruel master. The boy had never seen a railroad train, and when, staggering along the unfamiliar railroad track, he heard the roar of an approaching train, the clattering car-wheels seemed to his strained imagination to be repeating over and over again the awful words, "Catch a nigger-catch a nigger-catch a nigger-" This was a terrible story, and throughout my childhood, whenever I rode in a train, I thought of that poor runaway slave escaping from the pursuing monster. These stories, with the bazaars and the relief funds and subscriptions of which I heard so much talk, I Pg 3] am sure made a permanent impression on my brain and my character. They awakened in me the two sets of sensations to which all my life I have most readily responded: first, admiration for that spirit of fighting and heroic sacrifice by which alone the soul of civilisation is saved; and next after that, appreciation of the gentler spirit which is moved to mend and repair the ...
Createspace Independent Publishing Platform, 9781518898198, 206pp.
Publication Date: November 3, 2015