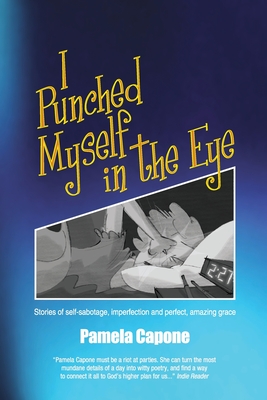 I Punched Myself in the Eye
Stories of self-sabotage, imperfection, and perfect, amazing grace
Paperback

* Individual store prices may vary.
Description
"Epiphanies never call ahead for a reservation" -Pamela Capone, "messayist"
Imagine looking in the mirror, barely awake in the morning. You open one eye and see the other, black, as in a shiner-and then you recall that you'd punched yourself in the eye during a dream that night
Welcome to Pamela Capone's wacky world.
In this collection of 65 personal, stand-alone essays, you will be entertained by her colloquial, quirky style, and surprised by the truths revealed. Putting her "quirk to work," she blends humor and depth.
An easy, transparent read, I Punched Myself in the Eye will appeal to anyone looking for a chuckle with a twist. You will end up not only with that, but so much more.Key themes are seizing the day, humanity, grace, faith and messages from a higher power. Some of the true-life stories are downright hilarious, and a few are piercingly poignant, revealing old truths with fresh insight.
Mostly they are about receiving understanding in the nonsense, epiphanies in unexpected places, redemption in everyday life. She shows that revelation from above can come many ways-a gardener's humble truck, an "overlapper" on a plane from Guatemala, a subway musician, or a little boy who needs his button buttoned. The more you believe it's possible, the more it is.
Author and essayist Pamela Capone has a unique, contagious perspective on the world. Capone tells stories of love, empowerment, faith, and family. IndieReader says, "Pamela Capone must be a riot at parties. She can turn the most mundane details of a day into witty poetry, and find a way to connect it all to God's higher plan for us."
Enjoy this collection of non-linear "messays," which as Capone says, "means you're free to move about the cabin."
Click the "Look Inside" feature to begin reading the first few of these punchy essays. Available in Kindle or paperback.
Createspace Independent Publishing Platform, 9781519102102, 208pp.
Publication Date: December 13, 2015
About the Author
By day, a self-professed professional unpaid people watcher and evidence gatherer, and by night, an insomniac dot connector, Pamela Capone lives in Southern California with her husband, John. They have two fabulous adult children together, Joey and Cassie.