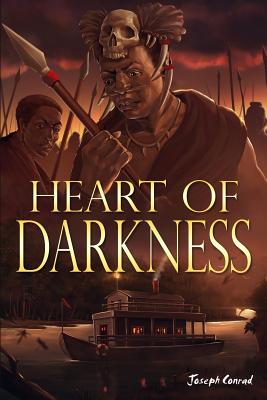 Heart of Darkness (Paperback)
Createspace Independent Publishing Platform, 9781519144720, 92pp.
Publication Date: November 6, 2015
Other Editions of This Title:
Paperback (9/1/2013)
Paperback (7/30/2008)
Paperback, Large Print (9/10/2015)
Paperback (1/15/2010)
Paperback (11/2/2006)
Paperback (11/17/2018)
Paperback (7/30/2008)
Paperback, Large Print (12/22/2005)
Paperback (4/8/2013)
Paperback (12/11/2015)
Paperback (10/11/2012)
Paperback (3/13/2014)
Paperback (12/23/2013)
Paperback (4/9/2015)
Paperback (5/19/2016)
Paperback (11/22/2011)
Paperback (7/26/2015)
Paperback (3/26/2016)
Paperback (6/29/2015)
* Individual store prices may vary.
Description
HEART OF DARKNESS
Joseph Conrad (1857 - 1924) Heart of Darkness (1899) is a novella by Polish-British novelist Joseph Conrad, about a voyage up the Congo River into the Congo Free State, in the heart of Africa, by the story's narrator Marlow. Marlow tells his story to friends aboard a boat anchored on the River Thames, London, England. This setting provides the frame for Marlow's story of his obsession with the ivory trader Kurtz, which enables Conrad to create a parallel between London and Africa as places of darkness. Central to Conrad's work is the idea that there is little difference between so-called civilized people and those described as savages; Heart of Darkness raises important questions about imperialism and racism. Originally published as a three-part serial story in Blackwood's Magazine, the novella Heart of Darkness has been variously published and translated into many languages. In 1998, the Modern Library ranked Heart of Darkness as the sixty-seventh of the hundred best novels in English of the twentieth century.