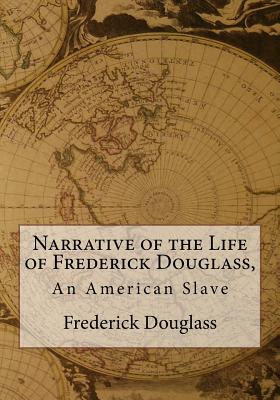 Narrative of the Life of Frederick Douglass, An American Slave
Paperback

* Individual store prices may vary.
Other Editions of This Title:
Paperback (9/26/2018)
Paperback (1/4/2020)
Paperback (2/23/2012)
Paperback (8/16/2018)
Paperback (5/31/2019)
Paperback (2/21/2020)
Paperback (11/29/2013)
Paperback (6/16/2011)
Paperback (3/31/2020)
Paperback (9/1/2014)
Paperback (4/15/2014)
Paperback (8/18/2018)
Paperback (1/22/2020)
Paperback (11/4/2009)
Paperback (7/23/2016)
Paperback (2/26/2020)
Paperback (11/14/2011)
Paperback (6/13/2013)
Paperback (10/28/2016)
Paperback (7/30/2020)
Description
Frederick Douglass (born Frederick Augustus Washington Bailey, c. February 1818 - February 20, 1895) was an African-American social reformer, abolitionist, orator, writer, and statesman. After escaping from slavery, he became a leader of the abolitionist movement, gaining note for his dazzling oratory and incisive antislavery writings. He stood as a living counter-example to slaveholders' arguments that slaves lacked the intellectual capacity to function as independent American citizens. Even many Northerners at the time found it hard to believe that such a great orator had once been a slave. Douglass wrote several autobiographies. He described his experiences as a slave in his 1845 autobiography, Narrative of the Life of Frederick Douglass, an American Slave, which became a bestseller and influential in supporting abolition, as did the second, My Bondage and My Freedom (1855). After the Civil War, Douglass remained an active campaigner against slavery and wrote his last autobiography, Life and Times of Frederick Douglass. First published in 1881 and revised in 1892, three years before his death, it covered events during and after the Civil War. Douglass also actively supported women's suffrage, and held several public offices. Without his approval, Douglass became the first African American nominated for Vice President of the United States as the running mate and Vice Presidential nominee of Victoria Woodhull, on the radical and visionary Equal Rights Party ticket. A firm believer in the equality of all peoples, whether black, female, Native American, or recent immigrant, Douglass famously said, "I would unite with anybody to do right and with nobody to do wrong." Douglass's best-known work is his first autobiography Narrative of the Life of Frederick Douglass, an American Slave, published in 1845. At the time, some skeptics questioned whether a black man could have produced such an eloquent piece of literature. The book received generally positive reviews and became an immediate bestseller. Within three years, it had been reprinted nine times, with 11,000 copies circulating in the United States. It was also translated into French and Dutch and published in Europe. Douglass published three versions of his autobiography during his lifetime (and revised the third of these), each time expanding on the previous one. The 1845 Narrative was his biggest seller, and probably allowed him to raise the funds to gain his legal freedom the following year, as discussed below. In 1855, Douglass published My Bondage and My Freedom. In 1881, after the Civil War, Douglass published Life and Times of Frederick Douglass, which he revised in 1892.
Createspace Independent Publishing Platform, 9781519348586, 82pp.
Publication Date: November 16, 2015