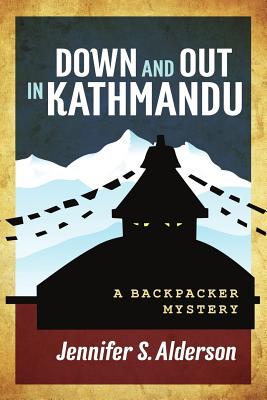 Down and Out in Kathmandu (Paperback)
A Backpacker Mystery
Createspace Independent Publishing Platform, 9781519365903, 232pp.
Publication Date: December 16, 2015
Description
Zelda wants to teach children English and 'find herself' in Kathmandu. Ian wants to get stoned and trek the Himalayas. Tommy wants to get rich by smuggling diamonds.
How their stories collide will leave you on the edge of your seat
Travel from the dusty, tout-filled streets and holy sites of Nepal to the sultry metropolises and picture-perfect beaches of Thailand, as Zelda and Ian try to outsmart the smugglers and escape Asia alive.
A fast-paced, thrilling travel mystery sure to captivate readers thirsty for some armchair adventure.
Travel to Nepal and Thailand with three twenty-somethings as they fumble their way towards self-discovery and perhaps a bit of wisdom.
Similar to The Beach, Are You Experienced?, Losing Gemma and Backpack, Down and Out in Kathmandu: A Backpacker Mystery is the perfect book for lovers of backpacker fiction and (mis)adventure novels.
Related subjects include: thrillers, action, adventure, suspense, intrigue, travel fiction, Asian travel, backpacking, smuggling, volunteering, Kathmandu, trekking, cultural heritage, humor, international adventure, satire, whodunit, amateur sleuth.
About the Author
Jennifer S. Alderson was born in San Francisco, raised in Seattle, and currently lives in Amsterdam. Her love of travel, art, and culture inspires her ongoing mystery series, the Adventures of Zelda Richardson. Her background in journalism, multimedia development, and art history enriches her novels. In Down and Out in Kathmandu, Zelda gets entangled with a gang of smugglers whose Thai leader believes she's stolen his diamonds. The Lover's Portrait is a suspenseful "whodunit?" about Nazi-looted artwork that transports readers to wartime and present-day Amsterdam. Art, religion, and anthropology collide in Rituals of the Dead, a thrilling artifact mystery set in Dutch New Guinea (Papua) and the Netherlands. Her travelogue, Notes of a Naive Traveler: Nepal and Thailand, is a must-read for those interested in learning more about - or wishing to travel to - Nepal and Thailand. Review and discuss her books on Facebook (http: //www.facebook.com/JenniferSAldersonAuthor), Twitter (@JSAauthor) or Goodreads (https: //www.goodreads.com/JennifeSAlderson). For more information about the author and her upcoming novels, please visit http: //www.JenniferSAlderson.com.
Advertisement