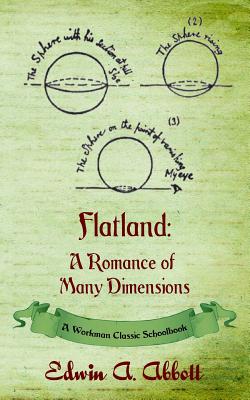 Flatland (Paperback)
A Romance of Many Dimensions
Createspace Independent Publishing Platform, 9781519664501, 218pp.
Publication Date: December 13, 2015
Other Editions of This Title:
Paperback (1/25/2014)
Paperback (10/9/2018)
Paperback (6/9/2017)
Paperback (6/11/2015)
Paperback (12/17/2010)
Paperback (8/27/2018)
Paperback (6/11/2018)
Paperback (12/29/2015)
Paperback (9/7/2016)
Paperback (9/25/2019)
Paperback (4/20/2011)
Paperback (6/26/2017)
Paperback (9/25/2019)
* Individual store prices may vary.
Description
This Workman Classic Schoolbooks edition contains:
* Background/Introduction
* Biography
* Footnotes
* Vocabulary and Comprehension/Extension questions after each chapter
* Discussion Questions suitable for students or book clubs
* Extension activities Flatland was first published in 1884 and is a unique combination of satirical comment on Victorian society and mathematical exploration of geometry and the first through fourth dimensions. Though not as well-known as Jonathan Swift's satire, Gulliver's Travels, it has been commented on by Einstein, Isaac Asimov, Carl Sagan, and Stephen Hawking, and has even been mentioned in the television series The Big Bang Theory.
A Square's journey through Pointland, Flatland, and Spaceland will give you a unique perspective on English society in the 1800s that stands on its own merit today.