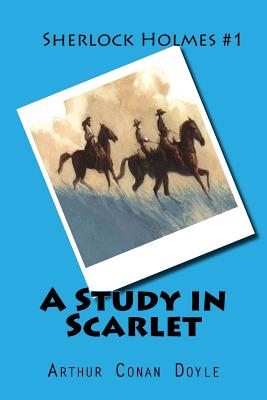 A Study in Scarlet
Paperback

* Individual store prices may vary.
Other Editions of This Title:
Paperback (5/14/2012)
Paperback (9/1/2004)
Paperback (4/28/2015)
Paperback (6/7/2018)
Paperback (5/10/2015)
Paperback (8/10/2015)
Paperback (12/23/2011)
Paperback (1/9/2020)
Paperback (1/4/2016)
Paperback (6/9/2009)
Paperback (2/23/2020)
Paperback (3/9/2020)
Paperback (4/14/2018)
Paperback (6/7/2018)
Paperback (3/9/2020)
Paperback (4/20/2015)
Paperback (1/22/2013)
Paperback (4/1/2011)
Paperback (10/23/2016)
Description
In the debut of literature's most famous sleuth, a dead man is discovered in a bloodstained room in Brixton. The only clues are a wedding ring, a gold watch, a pocket edition of Boccaccio's Decameron, and a word scrawled in blood on the wall. With this investigation begins the partnership of Sherlock Holmes and Dr. Watson. Their search for the murderer uncovers a story of love and revenge-and heralds a franchise of detective mysteries starring the formidable Holmes.
Createspace Independent Publishing Platform, 9781519779618, 138pp.
Publication Date: December 10, 2015
About the Author
Sir Arthur Ignatius Conan Doyle (22 May 1859 - 7 July 1930) was a Scottish writer and physician, most noted for his fictional stories about the detective Sherlock Holmes, which are generally considered milestones in the field of crime fiction. He is also known for writing the fictional adventures of a second character he invented, Professor Challenger, and for popularizing the mystery of the Mary Celeste. He was a prolific writer whose other works include fantasy and science fiction stories, plays, romances, poetry, non-fiction and historical novels.