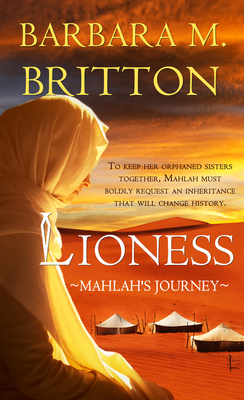 Lioness
Mahlah's Journey (Tribes of Israel #4)
Paperback

* Individual store prices may vary.
Other Editions of This Title:
Library Binding, Large Print (1/15/2022)
Description
While the Israelites struggle to occupy the Promised Land of God, Mahlah bat Zelophehad is orphaned and left to care for her four sisters. But daughters of the dead are unable to inherit land, and it will take a miracle for Mahlah to obtain the means to care for her sisters and uphold the vow she made to her dying mother.

Mahlah must seek Moses, the leader of her people, and request something extraordinary—the right for a daughter to inherit her deceased father's land. A right that will upset the ox-cart of male inheritance and thrust her into the role of a rebel.

But, God is the protector of the orphan and the widow, and five orphaned daughters need His help. With God, anything is possible. Even changing man's tradition.
Praise For Lioness: Mahlah's Journey (Tribes of Israel #4)…
"Britton launches the Daughters of Zelophehad biblical fiction trilogy with this enchanting first installment (after the Tribes of Israel series). The Israelites still wander the wilderness before entering the promised land. After the tragic death of Zelophehad, his five daughters must fend for themselves to prevent being put under the guardianship of male relatives. Mahlah, the eldest, is determined to provide for and protect her sisters, including obtaining the right to inherit land that would have been granted to a son. While the daughters show some rebellious streaks, Britton reveals Mahlah's strong faith and deep understanding of the cultural norms of her day as she boldly, but respectfully, approaches Moses with her petition. The request is so unexpected that Moses asks God for guidance before making a decision. Britton fleshes out the brief biblical account of this family with plenty of drama, including plagues, idol worshippers, and a harrowing military conflict. Mahlah's uncommon strength separates this poignant story from similar books that retread familiar biblical narratives. Fans of Tessa Afshar will love this." —Publisher's Weekly

"My expectations were blown right out of the water from page one...I am eagerly awaiting the next books in this series." —Jenna Van Mourik

"One of the reasons I enjoy reading Biblical fiction is the opportunity to take a deeper look at accounts of men and women spoken of in Scripture. And sometimes, being able to see things differently than I had pictured. I have often read about the daughters of Zelophehad and haven't actually thought much about them. I mean, they asked Moses for an inheritance, he asked God, God said okay. Not much there, right? Depends on who is looking, I guess! Barbara M. Britton brought so much out of this Biblical account! I loved seeing her thoughts on what might have driven the girls to make such a bold request. It had never occurred to me that to have them approach Moses instead of the leader of their tribe was a huge break from tradition. Or that the elders just might not have appreciated their request. Or the way this affected them afterward. I loved the gentle Mahlah who was fierce when it came to protecting her sisters and loved ones. She was given the nickname Lioness by an unexpected source, and it was well deserved. This sweet young girl was an imperfect heroine with a tic in her eye and was considered unattractive by her kinsmen. Quite a difference from many stories where the focus is on perfectly attractive characters! Her faith in the face of danger and difficulty was quite admirable. Whether you remember mention of the five daughters of Zelophehad or are merely curious about their identity, I highly recommend this delightful story full of insight and history. And a little romance, too!" —Phyllis Helton, Among the Reads

"[...] an effortless read, one that is sure to inspire you to deeper faith in the God who cares for the orphan in distress. I highly recommend this book [...]" —Corey Stumne, Pastor and author of The Man Called Messiah
Harbourlight Books, 9781522302537, 252pp.
Publication Date: December 6, 2019
About the Author
Barbara M. Britton was born and raised in the San Francisco Bay Area, but currently lives in Wisconsin and loves the snow—when it accumulates under three inches. She writes romantic adventures for teens and adults. She has a nutrition degree from Baylor University but loves to dip healthy strawberries in chocolate.