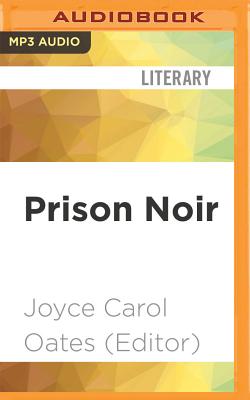 Prison Noir (Akashic Noir) (MP3 CD)
Audible Studios on Brilliance, 9781522602859
Publication Date: May 10, 2016
Other Editions of This Title:
Paperback (9/2/2014)
Hardcover (9/2/2014)
Compact Disc (12/7/2018)
* Individual store prices may vary.
Description
Akashic Books continues its groundbreaking series of original noir anthologies, launched with the summer '04 award-winning best seller Brooklyn Noir. Each book is comprised of all-new stories, each one set in a distinct neighborhood or location within the respective geographic range of the book. This anthology, with stories set in different prisons across the US, presents an absolutely new perspective on prison literature.
From the introduction by Joyce Carol Oates: "The blood jet is poetry--these words of Sylvia Plath have reverberated through my experience of reading and rereading the stories of Prison Noir. In this case the blood jet is prose, though sometimes poetic prose; if we go a little deeper, in some chilling instances, the blood jet is exactly that: blood. For these stories are not "literary" exercises--though some are exceptionally well-written by any formalist standards, and artfully structured as narratives; with a single exception the stories are stark, somber, emotionally driven cris de coeur... We may feel revulsion for some of the acts described in these stories, but we are likely to feel a startled, even stunned sympathy for the perpetrators. And in several stories, including even murderers' confessions, we are likely to feel a profound and unsettling identification... There is no need for fantasy-horror in a place in which matter-of-fact horror is the norm, and mental illness is epidemic. Vividly rendered realism is the predominant literary strategy, as in a riveting documentary film."
Featuring brand-new stories by: Christopher M. Stephen, Sin Soracco, Scott Gutches, Eric Boyd, Ali F. Sareini, Stephen Geez, B.M. Dolarman, Zeke Caligiuri, Marco Verdoni, Kenneth R. Brydon, Linda Michelle Marquardt, Andre White, Timothy Pauley, Bryan K. Palmer, and William Van Poyck.
This audiobook is narrated by Mark Boyett, David Marantz, Joe Barrett, Christina Delaine, Jennifer Van Dyck, Christian Rummel, Scott Aiello and Jeff Woodman.
or
Not Currently Available for Direct Purchase