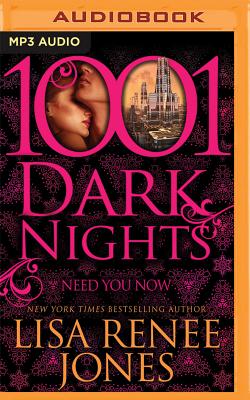 Need You Now (1001 Dark Nights) (MP3 CD)
Audible Studios on Brilliance, 9781522614258
Publication Date: May 10, 2016
Other Editions of This Title:
Paperback (5/9/2016)
Paperback (10/23/2014)
* Individual store prices may vary.
Description
1001 Dark Nights is a collection of breathtakingly sexy and magically romantic novellas inspired by the exotic tales of The Arabian Nights. In the original, Scheherazade desperately attempts to entertain her husband, the King of Persia, with nightly stories so that he will postpone her execution. In our versions, each of our fabulous authors puts a unique spin on the premise and creates a tale that a new Scheherazade tells long into the dark, dark night.
Life is hard. Life leaves you beaten, broken...alone. Then one day, a stranger touches your hand and you feel something intense, unforgettable, but yet, you want to forget. You need to forget. It's safer than believing in things you've decided don't exist. You know all about shattered promises and lost hope. You know them so much better than you know this excited, warm, wonderful feeling, and it scares you. He scares you, but he also makes you feel alive again. He makes you realize you haven't really been living. You're surviving and you fear he's the one who'll make you forget how to keep doing it. But what if he's the one who changes everything?
or
Not Currently Available for Direct Purchase