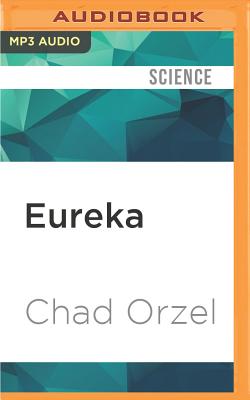 Eureka
Discovering Your Inner Scientist
MP3 CD

* Individual store prices may vary.
Other Editions of This Title:
Paperback (12/9/2014)
Description
Even in the 21st century, the popular image of a scientist is a reclusive genius in a lab coat, mixing formulas or working out equations inaccessible to all but the initiated few. The idea that scientists are somehow smarter than the rest of us is a common yet dangerous misconception, getting us off the hook for not knowing or caring how the world works. How did science become so divorced from our everyday experience? Is scientific understanding so far out of reach for the nonscientists among us? As science popularizer Chad Orzel argues in Eureka, even the people who are most forthright about hating science are doing science, often without even knowing it. Orzel shows that science isn't something alien and inscrutable, beyond the capabilities of ordinary people; it's central to the human experience. Every human can think like a scientist and regularly does so in the course of everyday activities. The disconnect between this reality and most people's perceptions is mostly due to the common misconception that science is a body of (boring, abstract, often mathematical) facts. In truth science is best thought of as a process: Looking at the world, thinking about what makes it work, testing your mental model by comparing it to reality, and telling others about your results. The facts that we too often think of as the whole of science are merely the products of this scientific process. Eureka shows that this process is one we all regularly use and something that everybody can do. By revealing the connection between the everyday activities people do--solving crossword puzzles, playing sports, or even watching mystery shows on television--and the processes used to make great scientific discoveries, Orzel shows that if we recognize the process of doing science as something familiar, we will be better able to appreciate scientific discoveries and use scientific facts and thinking to help address the problems that affect us all.
Audible Studios on Brilliance, 9781522658337
Publication Date: May 24, 2016
or
Not Currently Available for Direct Purchase