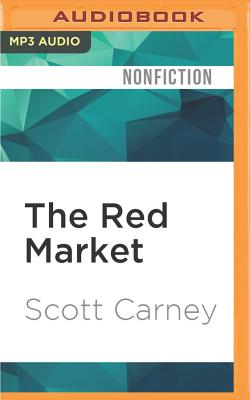 The Red Market (MP3 CD)
On the Trail of the World's Organ Brokers, Bone Thieves, Blood Farmers, and Child Traffickers
Audible Studios on Brilliance, 9781522687658
Publication Date: July 26, 2016
Other Editions of This Title:
Hardcover (5/31/2011)
Paperback (3/4/2012)
* Individual store prices may vary.
Description
An in-depth report that takes readers on a shocking tour through a macabre global underworld where organs, bones, and live people are bought and sold on the red market.
Investigative journalist Scott Carney has spent five years on the ground tracing the lucrative and deeply secretive trade in human bodies and body parts--a vast hidden economy known as the "red market." From the horrifying to the ridiculous, he discovers its varied forms: an Indian village nicknamed "Kidneyvakkam" because most of its residents have sold their kidneys for cash; unscrupulous grave robbers who steal human bones from cemeteries, morgues, and funeral pyres for anatomical skeletons used in Western medical schools and labs; an ancient temple that makes money selling the hair of its devotees to wig makers in America -to the tune of $6 million annually.
The Red Market reveals the rise, fall, and resurgence of this multibillion-dollar underground trade through history: from early medical study and modern universities to poverty-ravaged Eurasian villages and high-tech Western labs; from body snatchers and surrogate mothers to skeleton dealers and the poor who sell body parts to survive. While local and international law enforcement have cracked down on the market, advances in science have increased the demand for human tissue--ligaments, kidneys, even rented space in women's wombs--leaving little room to consider the ethical dilemmas inherent in the flesh-and-blood trade.
By turns tragic, voyeuristic, and thought-provoking, The Red Market is an eye-opening, surreal look at a little-known global industry and its implications for all our lives.
or
Not Currently Available for Direct Purchase