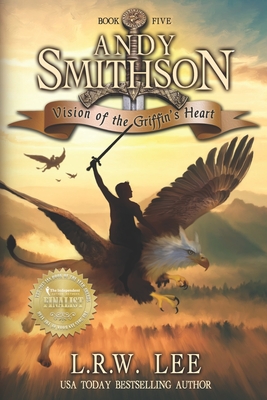 Vision of the Griffin's Heart (Paperback)
Teen & Young Adult Epic Fantasy with a Griffin (Andy Smithson #5)
Createspace Independent Publishing Platform, 9781522701507, 206pp.
Publication Date: December 31, 2015
* Individual store prices may vary.
Description
Will Andy overcome impossible odds or will Abaddon prevail?
The evil Abbadon, king of Oomladee's northern neighbor Hadession, steps up his attacks on Andy and Mom at home in Lakehills, TX over the next year, unnerving Andy as he overhears speculation that Methuselah may no longer be able to defeat this nemesis.

Andy arrives back in Oomaldee and receives a clue for the fifth ingredient needed for the curse-breaking potion, the claw of a griffin. There's one not-so-small problem however--griffins don't take kindly to humans.

The Andy Smithson series is a coming-of-age, epic fantasy adventure featuring fast-paced action, sword fights, laugh-out-loud humor, with a few life lessons thrown in. It's perfect for fans of Eragon, Fablehaven, Percy Jackson, Magemother, and Aster Wood

Scroll up and buy this book now

"This book is my new favorite of the series. Once I got halfway through it I couldn't put it down " - Hannah Miles, Reviewer

"Another page turner from L R W Lee " - JED, Reviewer.