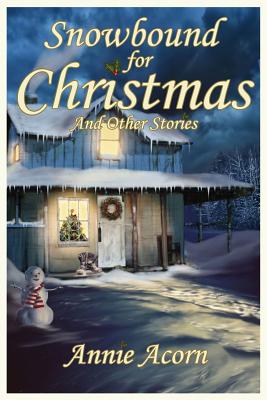 Snowbound for Christmas and Other Stories (Paperback)
Createspace Independent Publishing Platform, 9781522747314, 168pp.
Publication Date: December 13, 2015
* Individual store prices may vary.
Description
Hopeful that the back left tire on his truck will hold, Jack Branson begins the last leg of his long journey, desperate to reach his family's farm and surprise them on Christmas Eve. Nature, though, has other plans for the returning serviceman this snow-filled Christmas. Needing to find shelter, he spots the glow of lights from a small farmhouse and seeks sanctuary there. But then, the worn door opens, and he's welcomed in... So begins the latest offering from internationally beloved, From Women's Pens author Annie Acorn who, for the first time, provides readers with a complete collection of her famed Christmas stories, novelettes and novellas, including her newest novella Snowbound for Christmas that's set in rural, post-World War II Indiana. Settle yourself into a comfortable chair by the fireplace, sip on a cup of spiced tea, and nibble a gingerbread cookie as you wrap yourself in the love, laughter, family warmth, romance and second chances of an Annie Acorn Christmas. This is one book you will reread every holiday season Contains: A Christmas Rescue A Haunting Christmas One More Christmas Past One Last Gift to Go An Afghan of Many Colors Christmas by Design Too Busy for Christmas One Sweet Christmas Snowbound for Christmas.
About the Author
Annie Acorn is the pseudonym of a prolific, internationally beloved author, whose readership recognizes her mainly for her women's fiction, cozy mysteries and richly woven stories with a warm southern flair, such as Chocolate Can Kill and her Luna Lake Cabins romantic women's fiction series. She writes her romantic women's fiction/family saga Captain's Point Stories series as Charlotte Kent. She is a founding member of From Women's Pens - A Cooperative of Women Writers. Annie is the mother of two sons. She lives in the Washington, D.C. area, where she has done extensive technical writing as a contractor. She owned a tri-state medical outsourcing business for a number of years and was the Director of a behavioral healthcare firm. She once flipped a comic book and collectible retail company comprised of five stores, and she has managed cemeteries and funeral homes. She is the owner of Annie Acorn Publishing, LLC. Ms. Acorn has published in The Inspirational Writer, and she edited an in-house publication for the State of Mississippi. She is a contributor of ezine articles. In her spare time, Ms. Acorn enjoys reading, writing mysteries and romantic women's fiction, listening to classical music, playing cards, and spending time with her family and friends - often at a restaurant serving delicious food. Annie is the author of the blog at annieacorn.com. You can friend her on Facebook and tweet her at @Annie_Acorn or @CharlotteKent20. She will respond to your email sent to annieacorn11@gmail.com, and she invites you to visit her AAPub author's pages at: http: //annieacornpublishing.com/authors/annie-acorn and http: //annieacornpublishing.com/authors/charlotte-kent