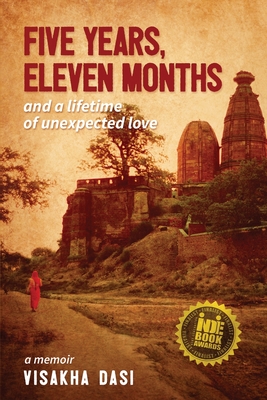 Five Years, Eleven Months and a Lifetime of Unexpected Love (Paperback)
A Memoir
Createspace Independent Publishing Platform, 9781522838449, 292pp.
Publication Date: October 3, 2016
* Individual store prices may vary.
Description
"Brilliant photographs ... a talented writer ... her descriptions are lyrical and evocative." - Kirkus Reviews"This makes Eat, Pray, Love look like a summer vacation ... An important historical and spiritual journey told seamlessly." -- The BookLife Prize 2017, Ten out of ten rating.In 1971, at age 20, Visakha had just published her first book and was beginning her ascent to fame and fortune through a career in photojournalism. She dreamed of bringing the people of the world closer by sharing their common kinship and values through her photographic essays. Then, at the invitation of her college boyfriend, who was working on his MFA thesis in India, Visakha traveled east, where she first learned about bhakti yoga - the yoga of devotion - from a simple Indian sage. The bhakti tradition seemed irrelevant to Visakha, and she rejected it. Five Years, Eleven Months and a Lifetime of Unexpected Love is Visakha's deeply personal account of the emotional upheaval caused by her doubting her own cherished convictions, by her discovery that the alarmingly unreasonable - bhakti - could gradually become alarmingly reasonable. Visakha portrays her own and others' experiences in India, Europe, and the United States as they grapple with knowledge and a culture that is at once utterly foreign yet also resonant with their hearts. And she reflects on the profound, life-altering questions that we all sometimes ask. Written by a fellow seeker who maintains a healthy dose of skepticism, this is the heartwarming, funny, colorful, bizarre, surprising, informative, and upending true story that will help questioner-skeptics see life from another perspective, one likely different from their own. In Five Years, Eleven Months, Visakha beautifully weaves together her personal losses and gains with an age-old tradition that enfolds her, creating a moving narrative for anyone who has ever asked, "Why?
About the Author
Since her first trip to India in 1971 (when she was 21), Visakha's life has never been the same. She's tried to explain what happened to her -- and what's continuing to happen -- in numerous magazine articles as well as four books, most recently a memoir, Five Years, Eleven Months and a lifetime of unexpected love. Besides writing articles and books, Visakha also assists her husband, John Griesser, in making documentary films. The couple has recently released a 90-minute biopic, Hare Krishna, the Mantra, the Movement, and the Swami who started it all -- coming to a theater near you! They have two beautiful daughters and are based in both British Columbia and Florida, but mostly Florida.