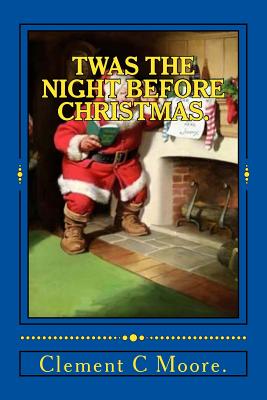 Twas the Night Before Christmas. (Paperback)
Createspace Independent Publishing Platform, 9781522923077, 26pp.
Publication Date: December 26, 2015
Other Editions of This Title:
Hardcover (9/4/2012)
Paperback (12/8/2013)
Paperback (3/17/2018)
Hardcover (11/17/2015)
Paperback (10/13/2017)
Paperback (7/5/2016)
Paperback (10/12/2016)
Paperback (11/15/2015)
Hardcover, Spanish (9/7/2012)
Board Books (9/1/2017)
Board Books (9/3/2019)
Paperback (12/12/2011)
Paperback (10/10/2017)
Paperback (11/16/2010)
Paperback (8/24/2016)
Board Books (9/15/2015)
* Individual store prices may vary.
Description
On Christmas Eve night, while his wife and children sleep, a father awakens to noises outside his house. Looking out the window, he sees St. Nicholas in an air-borne sleigh pulled by eight reindeer. After landing his sleigh on the roof, the saint enters the house through the chimney, carrying a sack of toys with him. The father watches Nicholas filling the children's Christmas stockings hanging by the fire, and laughs to himself. They share a conspiratorial moment before the saint bounds up the chimney again. As he flies away, Saint Nicholas wishes everyone a "Happy Christmas to all, and to all a good night.