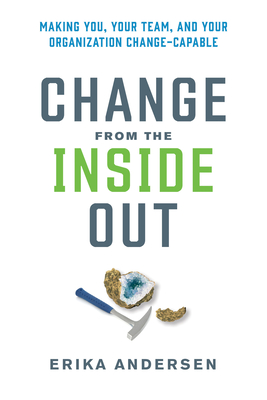 Change from the Inside Out
Making You, Your Team, and Your Organization Change-Capable
Hardcover

* Individual store prices may vary.
Description
Change initiatives fail because humans are hardwired to return to what's worked for us in the past. This book offers a straightforward process for rewiring ourselves and those we lead to be more change-capable.

Erika Andersen says avoiding change has been a historical imperative. In this book, she shows how we can overcome that reluctance and get good at making necessary change. Using a fictional story about a jewelry business changing generational hands, Andersen lays out a five-step model for addressing both this human side of change and its practical aspects:

Step 1: Clarify the change and why it's needed—Get clear on what the change is and the benefits it will bring.
Step 2: Envision the future state—Build a shared picture of the post-change future.
Step 3: Build the change—Bring together a change team, engage key stakeholders, and plan the change.
Step 4: Lead the transition—Build a transition plan that supports the human side of the change, then engage the whole organization in making the change.
Step 5: Keep the change going—Work to make your organization permanently more change-capable.

With opportunities to self-reflect and try out the ideas and approaches throughout, this book is a practical guide to thriving in this era of nonstop change.

Praise For Change from the Inside Out: Making You, Your Team, and Your Organization Change-Capable…
"In Change from the Inside Out, Erika goes right to the heart of what makes major change work or not work: whether you, as a leader, can help your people embrace the change and operate in new ways. She provides a detailed yet conversational guide to planning and implementing change in a way that supports everyone involved. Whether you're a change agent or an entrepreneur, a fixer or a builder, this book is a much-needed tool in your tool chest."
—Detavio Samuels, CEO, REVOLT Media & TV
 
"The past few years have shown us that major change—personal and professional—is now a constant and that leaders must support their people and their organizations through all kinds of change. Change from the Inside Out is a comprehensive, accessible guide you can use every day and a valuable resource for every aspect of change."
—Dawn Ostroff, Chief Content and Advertising Business Officer, Spotify
 
"Change is constant now in all organizations, and how we choose to lead through it can make or break an organization's success. In Change from the Inside Out, Erika helps leaders understand what change means for all people involved and how to support them through it. Applying Proteus's practical, human-centered approach to any change—from small and simple to large-scale and complex—can help assure your organization keeps thriving through all the transformations yet to come."
—Lisa Chang, Global Chief People Officer, Coca-Cola Company
 
"Erika has a gift for finding and naming the simple truths in complex topics. In Change from the Inside Out, she has cracked the code on how individuals move through change—or don't. Then she shows how any leader can use Proteus's practical, people-based model to make needed change smoother and less painful for everyone involved."
—Courteney Monroe, President, National Geographic Global Television Networks
 
"Erika Andersen's Change from the Inside Out will change how you view change. Step-by-step, she outlines the essential procedures leaders need to implement to turn the headwinds of change into best-of-class performance and how to harness change as a catalyst for organizational alignment and growth."
—Danny Meyer, author of Setting the Table and CEO, Union Square Hospitality Group
 
"Authentic leadership changes everything. But what changes leadership? Change from the Inside Out is a great resource to change leadership, change enterprises, and change the world from an essential level. Savor and embody this book as you change everything!"
—Kevin Cashman, Global Leader of CEO and Executive Development, Korn Ferry, and bestselling author of Leadership from the Inside Out and The Pause Principle
Berrett-Koehler Publishers, 9781523000395, 256pp.
Publication Date: October 26, 2021
About the Author
Erika Andersen is founding partner of Proteus, a coaching, consulting, and training firm that focuses on leader readiness. Much of her recent work has focused on organizational vision and strategy, executive coaching, and management and leadership development. In these capacities, she serves as consultant and advisor to the top executives of a number of organizations, including Spectrum, Revolt Media, Spotify, Amazon, Madison Square Garden, and the Yale School of Public Health. She is the author of four previous bestselling books, including Growing Great Employees and Be Bad First.