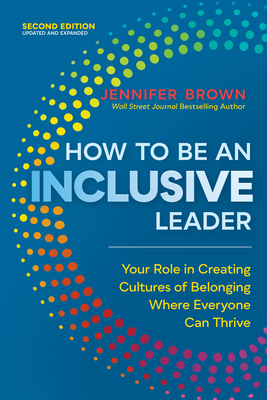 How to Be an Inclusive Leader, Second Edition
Your Role in Creating Cultures of Belonging Where Everyone Can Thrive
Paperback

* Individual store prices may vary.
Other Editions of This Title:
Hardcover (8/20/2019)
Paperback (2/9/2021)
MP3 CD (9/3/2019)
Compact Disc (9/3/2019)
Description
This compelling and inspiring call to action for leaders at every level helps them find their role and voice in affecting societal and workplace change.

The need for inclusive leadership has never been more urgent. In the United States, the wealth gap is the greatest it has ever been, with women, people of color, and other marginalized communities being the most impacted by economic and societal inequities. In the workplace, representation is still sorely lacking across every industry. Pay disparities, low wages, and lack of benefits continue to characterize many jobs in the nation's labor force. These realities have an impact on generations, communities, and our society overall. To build a more equitable future, leaders must grasp the urgency of their role and responsibility in the change effort.

In this updated and greatly expanded second edition of her bestselling book, Jennifer Brown takes a deeper dive into what it takes to be an inclusive leader and examines the challenges and mindsets that continue to hold many leaders back. Combining nearly two decades of professional DEI expertise with personal experience and reflection, she tackles complex topics such as identity, privilege, and systemic inequities. Following her widely acclaimed Inclusive Leader Continuum, Brown makes the journey to becoming an inclusive leader more informed and actionable by offering new structure and content throughout the new edition of the book, including new insights and stories, detailed strategies and tools, and discussion guides to spark learning at the individual and organizational levels.

Whether you are already a fan of the first edition of How to Be an Inclusive Leader or are just embarking on your journey to become a more inclusive leader, this book will meet you where you are and equip you to take action and step into your role in the change effort.
Praise For How to Be an Inclusive Leader, Second Edition: Your Role in Creating Cultures of Belonging Where Everyone Can Thrive…
"This book is educational, actionable, and packed with practical tools to help individuals activate their voice and build their capacity as inclusive leaders."
—Rohini Anand, PhD, former Senior Vice President and Chief Diversity Officer, Sodexo
 
"Jennifer has the unique ability to guide leaders through the complex terrain of the changing leadership landscape."
—Michele Meyer-Shipp, CEO, Dress for Success Worldwide, and former Chief People and Culture Officer, Major League Baseball

"I am full of gratitude for the impact Jennifer Brown made on me directly and indirectly throughout my Diversity, Equity, Inclusion and Belonging career. Jennifer and I partnered many years ago and she's been a teacher, cheerleader, advocate, and mentor of mine since. She has a way of leaning into the rhythms of the DEI biz and meeting the moments that matter. She's one of the most heart-centric change agents I know."
—Dr. Erin L. Thomas, Head of Diversity, Inclusion & Belonging, Upwork

"Brown's guidance is invaluable in today's rapidly shifting workplace. Her book is a must-read for any leader who doesn't want to be left behind."
—Mark Taggart, President and CEO, Toyota Industries Commercial Finance
 
 "This exciting new edition of How to Be an Inclusive Leader is a great resource for addressing the diversity challenges of our times. Jennifer Brown's discussion of privilege and identity will add great value to anyone wishing to advance on the continuum of inclusive leadership."
—Marilyn Gist, PhD, author of The Extraordinary Power of Leader Humility

"When modifying a course on inclusive leadership for the first core class in an MBA program, the Jennifer Brown book on How to Be an Inclusive Leader stood out because of its focus looking at inclusion from a very human perspective. It focused on assessment tools and actionable steps a leader could take to progress. Feedback from students includes statements like, "I started hating the focus on diversity and inclusion but by the end of the course found myself seeing this in a very different light." And that's the clarity Jennifer brings to this topic. The new edition adds cogent strategies leaders can take. More than that, it emphasizes the importance of humility, empathy, vulnerability, and resilience as we commit to making our workplaces somewhere that everyone belongs."
—Mark Wehde, Chair, Mayo Clinic Engineering, Lecturer, University of Wisconsin MBA Consortium, Medical Device Innovation Fellow, University of Minnesota Technology Leadership Institute

"Inclusivity: once a differentiating factor for leaders, now a defining one. In this second edition of How to Be an Inclusive Leader, Brown sets her groundbreaking Inclusive Leadership Continuum smack dab in the middle of these uncertain, tumultuous times, challenging leaders to be both candid and courageous, embrace discomfort, and confront their own privilege. This book is where inclusive leadership moves beyond aspiration to action."
—Janet M. Stovall (she/her) Global Head of DEI, The NeuroLeadership Institute, TED Speaker, Diversity Pragmatist, coauthor, The Conscious Communicator: The Fine Art of Not Saying Stupid Sh*t
 
"Jennifer effortlessly tackles the power and significance of strategically practicing inclusion for the benefit of everyone without the standard complex and empirical processes that may work for great business plans, however, not for the vastly diverse people who drive and execute them. Jennifer skillfully, with a visceral and purposeful approach, exhibits her master-class global expertise as the leading authority on developing a culture of belonging by offering us the very pragmatic Stages of the Inclusive Leader Continuum and reminding us that our journey begins with a series of important steps. My first step was reading this book."
—H, Walker, Diversity, Equity, & Inclusion Officer, Boys & Girls Club of America

"I've long valued the modern lens through which Jennifer approaches diversity and inclusion, and How to Be an Inclusive Leader lends a long-overdue voice to inclusive leadership in the new workplace. As the increasingly diverse workforce looks for accountability from their employers, it's more important than ever for leaders to ensure that they're not just talking about inclusion but creating a culture in which employees feel comfortable bringing every part of themselves to work. This book is the leader's guide to doing just that."
—Tia Silas, Chief Talent Officer, Shopify

"So many of us want to be even more inclusive as leaders, but for a number of reasons we aren't always sure how. It is truly a journey, and we're all at different places. Jennifer Brown writes with compassion and empathy while giving us a little kick in the pants. The reality is that we can all do more to make our teams and workplaces more inclusive, and this important book shows actual steps for making this happen."
—Mike Robbins, author of We're All in this Together: Creating a Team Culture of High Performance, Trust, and Belonging
 
"Despite good intentions and an understanding that employee diversity strengthens teams and contributes to the bottom line, many leaders struggle with how to actualize an inclusive workforce. In How to Be an Inclusive Leader, expert Jennifer Brown guides leaders from being unaware to being an advocate for all employees. Her advice is invaluable for the leaders of today and tomorrow."
—Jan Jones Blackhurst, Board Member, Caesars Entertainment, Former Mayor of Las Vegas
 
"Finally, a book that acknowledges that allyship is a continuum and that all of us should up our advocacy constantly, like working a muscle. The situational examples allow us all to dress rehearse how we'll meet these moments when they come up in real life. A must-read for anyone committed to a world where we all belong and contribute fully."
—Kat Gordon, Founder, The 3% Movement, Board Member, The Representation Project, Advisor, Empower Work, Keynote Speaker
 
"How to Be an Inclusive Leader is a fantastic read! Jennifer Brown is incredibly thought-provoking, especially around the concepts of fairness, equity, privilege, and what it means to be on the right side of social change. How to Be an Inclusive Leader digs deep on the root causes of inequality in the workplace, showing how we must be intentional about disrupting the status quo. We are living in challenging times, where we must innovate and explore and pull every possible lever of change. If you've been looking for a book that will help you drive real change at your organization, this is it!"
—Erin Uritus, CEO, Out & Equal
Berrett-Koehler Publishers, 9781523002009, 144pp.
Publication Date: October 4, 2022
About the Author
Jennifer Brown is an award-winning thought leader, speaker, and author. She has been featured in the New York Times, Wall Street Journal, Harvard Business Review, Forbes, and many other publications. Her firm, Jennifer Brown Consulting, is globally renowned for its diversity, equity, and inclusion thought leadership and its expertise in organizational change, partnering with top companies across the world to build an equitable and inclusive future.