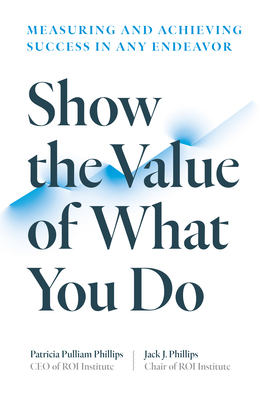 Show the Value of What You Do
Measuring and Achieving Success in Any Endeavor
Paperback

* Individual store prices may vary.
Description
By the winners of the Association for Talent Development's 2022 Thought Leader award!

Prove your effectiveness to anyone—and achieve professional success—by adopting the same ROI methods and metrics that leading companies use.

In an era of evidence-based inquiry, people need to be able to demonstrate the value of their projects credibly. But how do you do that when there isn't an obvious measure connected to the project, like increased sales?

In their new book Patti and Jack Phillips, the cofounders of ROI Institute, show how you can adopt the same methodology used by more than 6,000 organizations in seventy countries to evaluate large institutional initiatives. By following their six-step process, you can build a case for any project, process, or intervention, even so-called soft programs. For example, the first case study in the book involves successfully demonstrating the effectiveness of chaplaincy in an intensive care unit.

The authors explain how to link your project to a meaningful business outcome, make sure your project will actually influence that outcome, identify metrics that will show if you're making progress, collect and analyze data, and use the results to build support.

This book includes extensive examples from a wide range of organizations: businesses, nonprofits, schools, law enforcement, and more. It provides diagnostic tools and supportive practices and even offers advice on how to find a positive interpretation for results that don't conform to your anticipated outcome.

Answering the question "Is it worth it?" defines the ultimate value of any project. Using the methodology this book presents will keep your work relevant, your career on track, and your organization healthy.
Praise For Show the Value of What You Do: Measuring and Achieving Success in Any Endeavor…
"Patti and Jack have given us a gift with this guide. Starting with the end in mind and never forgetting the 'why' changes the paradigm on how we view, define, and measure success."
—Gina Paone, Leader, Office of Innovation and Change, International Monetary Fund
 
"As a senior leader in the Army Chaplaincy, applying ROI was critical for me to show the value of our ministry and staff work in caring for our Army. A must-read."
—Chaplain (Brigadier General, Retired) Charles "Ray" Bailey, US Army
 
"For many years, I used the ROI Methodology in a corporate setting . . . I love the way this book lays out the potential for the same type of demonstrable impact for individual contributors, independent consultants, project managers, practitioners, and entrepreneurs in any setting."
—Rebecca L. Ray, PhD, Executive Vice President, Human Capital, The Conference Board

"'Show me the money' was more than a catchy punchline from the movie Jerry Maguire. It was a demand for evidence of results that mattered. Success has many meanings, but the one most important is the ultimate worth after checklists have been completed and accolades have faded.  Show the Value of What You Do is a pragmatic guide for ascertaining value as well as a platform for supporting bold experimentation and confident execution."
--Chip R. Bell, author of Inside Your Customer's Imagination
Berrett-Koehler Publishers, 9781523002276, 160pp.
Publication Date: September 20, 2022
About the Author
Patti P. Phillips, PhD, is the CEO of ROI Institute Inc., the leading source of ROI competency building, implementation support, networking, and research. Since 1997, Patti has been a driving force in the global adoption of the ROI Methodology and the use of measurement and evaluation to drive organization change.

Jack J. Phillips, PhD, is chair of ROI Institute Inc. and a world-renowned expert on accountability, measurement, and evaluation. Jack provides consulting services for Fortune 500 companies and major global organizations and is the author or editor of more than one hundred books.