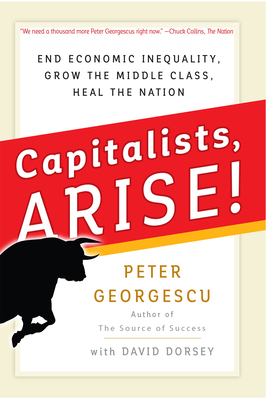 Capitalists, Arise!
End Economic Inequality, Grow the Middle Class, Heal the Nation
Hardcover

* Individual store prices may vary.
Other Editions of This Title:
Digital Audiobook (4/30/2017)
Compact Disc (5/16/2017)
MP3 CD (5/16/2017)
Description
Peter Georgescu arrived in this country as a penniless Romanian refugee and rose to become the CEO of Young & Rubicam. This is why he's so heartsick that with flat wages, disappearing jobs, and a shrinking middle class, his kind of rags-to-riches story doesn't seem possible now. But he has a message for his fellow CEOs: we're the ones who must take the lead in fixing the economy.

Marshaling deeply sobering statistics, Georgescu depicts the stark reality of America today: a nation with greater wealth inequality and lower social mobility than just about any other country in the developed world. But the problem isn't that free-market capitalism no longer works—it's that it's been hijacked by shareholder primacy. Where once our business leaders looked to the needs and interests of a variety of stakeholders—employees, community members, the business itself—now they're myopically focused on maximizing their shareholders' quarterly returns.

Capitalists Arise! shows how the short-term thinking spawned by shareholder primacy lies at the root of our current economic malaise and social breakdown. But Georgescu offers concrete actions that capitalists themselves can take to create a better future. The irony is that if businesses do this, shareholders will do even better. In the long run, businesses can thrive only when society is healthy and strong. This book is a manifesto calling on capitalists to heal the nation that has given them so much.
Praise For Capitalists, Arise!: End Economic Inequality, Grow the Middle Class, Heal the Nation…
2018 Independent Publisher Book Awards bronze medalist in the Business/Career/Sales category.

"Peter Georgescu has written a clear-eyed assessment about the drivers of key national challenges like income inequality and shrinking economic opportunity. He offers a number of thoughtful prescriptions for change, all aimed at the worthiest of goals—restoring the viability of the American Dream. I applaud and commend his efforts."
—Roger W. Ferguson, President and CEO, TIAA; former Vice Chairman, US Federal Reserve System; and Chairman, The Conference Board

"In Capitalists Arise! Peter Georgescu has issued a challenge to America's captains of business, industry, and finance to step forward and reclaim capitalism as a means of creating wealth and shared prosperity. Georgescu warns that without developing a more inclusive capitalism that generates broader opportunity and social mobility, we risk destroying our economy and even our democracy. Capitalists Arise! is a clarion call by a great American patriot and business leader written out of love for his country and his unwavering belief in our nation's ideals of fairness, opportunity, and justice."
—Darren Walker, President, Ford Foundation

"In Capitalists Arise! Peter Georgescu makes the case to his brethren business executives for investment in employees and the business drivers of innovation, productivity, and long-term value creation. It's an essential call to action rooted in the imperative need for change and common sense."
—Judith Samuelson, Executive Director, Business and Society Program, The Aspen Institute

"Georgescu pleads passionately and convincingly for a return to a form of capitalism that invests first and foremost in employees and R&D and sees itself as a partner in the work of building up the human family. To say that the publication of this visionary work is timely would be an understatement."
—Rev. Joseph M. McShane, SJ, President, Fordham University

"Capitalists Arise! is vivid and engaging, required reading for every corporate executive in our country, not to mention every shareholder. It lays out that paying employees more fairly and reinvesting in business growth would have an enormous salutary effect on the lives and well-being of America's citizens. It will also lead to corporate success."
—Ann Reynolds, Director, Abbott Laboratories, Humana, and Owens Corning, and former Chancellor, California State University system and The City University of New York

"In this valuable and well-written book, Peter Georgescu explores the erosion of the American Dream and the societal impacts of growing economic inequality. Fortunately, he is an optimist and presents a compelling case for what the private sector can do to simultaneously advance the interests of both workers and shareholders. Unlike many books about the future of our economy, this is one you should buy—and actually read."
—Jason Grumet, President, Bipartisan Policy Center

"Peter Georgescu, one of America's leading business thinkers, has issued a sharp warning to his fellow capitalists: they've become the unwitting enemy of the free-market system they claim to love. By elevating share prices over the welfare of the workers and consumers who buy their products, they're in danger of driving our great, corporate profit-making engine into the ground. This book talks frankly to blinkered titans who have hijacked the system. To keep capitalism alive, he tells them, all Americans have to thrive."
—Jane Bryant Quinn, author of How to Make Your Money Last

"Capitalists Arise! highlights the perilous human cost of opportunity inequality and how it threatens the entire American system. Georgescu offers a critique of how the philosophy of shareholder primacy, since the 1980s, has contributed to shrinking opportunity for most Americans. Importantly, he points to solutions business and the nation need with great urgency."
—Raymond D. Horton, Professor of Ethics and Governance, Columbia Business School

"Peter Georgescu is a great storyteller. In his new book he takes on one of the driving stories of our time—income inequality. He makes you not just understand but feel the consequences in human terms. And then he goes on to offer real-world solutions. This book will not just make you think; it will drive you to action."
—Shelly Lazarus, Chairman Emeritus, Ogilvy & Mather, and Board Member, General Electric, Blackstone Group, and Merck

"Capitalists Arise! is a powerful call to action for the business community to address the rapid rise in inequalities of income, wealth, and opportunity witnessed over recent years. The work of the OECD has underlined, with greater clarity than ever before, the true nature of the threat posed by soaring inequalities to growth, political stability, and the very existence of our future prosperity. Business may have contributed to the problem, but it can also be a key part of the solution. Georgescu's message is simple: business cannot serve one master alone—the shareholder. Rather, he asserts that, for its own benefit, the business community must treat their employees, their companies, and their communities more fairly. Inclusive growth is the only viable socioeconomic solution for our times. Capitalists Arise! is a must-read."
—Angel Gurría, Secretary-General, Organisation for Economic Co-operation and Development

"Capitalists Arise! is the most compelling book I have read about the disastrous effects of ever-widening income inequality in America since Charles Murray's . . . Coming Apart. It offers compelling solutions for an America on the brink." 
—Pamela Carlton, President, Springboard

Berrett-Koehler Publishers, 9781523082667, 144pp.
Publication Date: May 1, 2017
About the Author
Peter Georgescu is chairman emeritus of Young & Rubicam. He served as the company's chairman and CEO from 1994 until January 2000. In recognition of his contributions to the marketing and advertising industry, he was elected to the Advertising Hall of Fame in 2001. Georgescu has been the director of the board for eight public companies, among them Levi Strauss, IFF, Toys"R"Us, and EMI Recorded Music. He is currently vice chairman of New York–Presbyterian Hospital, a trustee of the Paul and Daisy Soros Fellowships for New Americans program, and a member of the Council on Foreign Relations. He is the author of two previous books, The Source of Success: Five Enduring Principles at the Heart of Real Leadership and The Constant Choice: An Everyday Journey from Evil toward Good.
David Dorsey is the author of the critically acclaimed The Force and The Cost of Living. The Force was included in The 100 Best Business Books of All Time. Dorsey is coauthor, with Peter Georgescu, of The Source of Success and The Constant Choice. He has written for Fast Company, Esquire, Worth, and a variety of other publications.
or
Not Currently Available for Direct Purchase