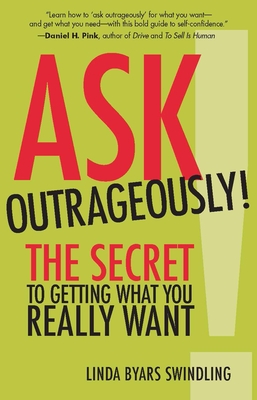 Ask Outrageously! (Paperback)
The Secret to Getting What You Really Want
Berrett-Koehler Publishers, 9781523082711, 240pp.
Publication Date: June 5, 2017
* Individual store prices may vary.
Description
Stop Holding Yourself Back—It's Time to Go Ask!


The strongest relationships, top sales groups, and most successful organizations have one thing in common: people who have the courage to ask outrageously. This doesn't mean being obnoxious or taking advantage of people. It means not compromising, taking a risk to get what you know you need, not what you think you can get.

Based on Linda Swindling's original research and her experience helping people make high-stakes requests in everything from business negotiations to marriage proposals, this book offers proven approaches to improve your asking and boost your chances of success. Whether you are a professional looking for a bigger opportunity, an entrepreneur striving to build a company, a nonprofit seeking funding, or simply a parent or friend wanting a more fulfilling relationship, it's time to make that big ask! Get ready. Your results will surpass your greatest expectations!
About the Author
Linda Byars Swindling, JD, is a negotiation expert, strategic consultant, Certified Speaking Professional, and Board Certified Coach and the president of Journey On, an executive development company. She is the author of several books, including The Manager's High-Performance Handbook and Stop Complainers and Energy Drainers.
Praise For Ask Outrageously!: The Secret to Getting What You Really Want…
IBPA Benjamin Franklin Award silver winner in the Self-Help category.

"Have you ever wanted something badly but were afraid to ask? Linda Byars Swindling has written the book for you. Learn how to 'ask outrageously' for what you want -- and get what you need -- with this bold guide to self-confidence. You can become a better leader, a more effective salesperson, or a shrewder negotiator with the big ask."
--Daniel H. Pink, author of Drive and To Sell Is Human

"Love this book and the premise of 'just ask' and you shall receive. Asking for what you want translates across cultures. It sounds easy, but it truly is BIG to ask for simple, even obvious things."  
--Daisy Chin-Lor, President Tupperware & Nutrimetics for Australia & New Zealand

"Linda Swindling has nailed the way to get better results: Ask Outrageously up front. People trust the clear and distrust the ambiguous. Read the book and practice the techniques-trust me on this!"
-- David Horsager, Bestselling Author & CEO Trust Edge Leadership Institute

"Most people in our culture are reluctant to ask for what they want. If that describes you, read this book right away. Linda understands how to ask outrageously—that's why she has my endorsement!"
--Ed Brodow, author of Negotiation Boot Camp: How to Resolve Conflict, Satisfy Customers, and Make Better Deals

"Asking questions when you are a consultant is like mining for gold. You have to dig, but asking big nets nuggets of truth and a wealth of wisdom. Linda Swindling knows how to strike gold and shows you how to hit pay dirt with your clients." 
--Elaine Biech, author The Business of Consulting, editor The ASTD Leadership Handbook

"Linda Swindling is an outstanding professional speaker and an accomplished consultant. In this book she covers substantive content, which can enable you to do more, be more, and achieve more. Read it to learn. Apply it to succeed."
--Dr. Nido R. Qubein, President, High Point University

"To reach our desire pinnacles, in business and in life, it is crucial to take calculated risks and ask outrageously. Thanks Linda for sharing your success with the world!"
--Frances Rios, pioneer of women inclusion in Latin America, Founder of Women Who Lead Summit™ and W Certified Company™. 

"Linda took the old Bible verse, "Ye have not because ye ask not" and turned it into a process for getting what you want in life and business. This is a solid, tactical plan for why you should ask, how you should ask and what you can expect when you ask. There is no way you won't improve your results if you follow her advice!"
--Larry Winget, social commentator, TV personality and six time NYT/WSJ bestselling author of Grow A Pair and Shut Up, Stop Whining and Get A Life.

"Need a nudge to ask for that REALLY big thing you want at work? This is the book to provide just the right mix of know-how and motivation! A quick read, highlighting easy-to-implement ideas."
--Dianna Booher, author of Communicate Like a Leader: Connecting Strategically to Coach, Inspire, and Get Things Done and What MORE Can I Say: Why Communication Fails and What to Do About It

"Wow!  Linda's book whacked me between the eyes. I need to learn more about how to Ask Outrageously.  This is powerful information and I'll be recommending this book to all of the CEOs and C-suite leaders I work with in home health care across the country."
--Stephen Tweed, CEO, Leading Home Care … a Tweed Jeffries company

"It's only outrageous if you don't ask!  From the back office employee to the salesperson closing the big deal we're all asking for something.  It's time to quit merely asking and start asking outrageously.  The bigger the ask, the bigger the reward and it all starts by digging in and reading Ask Outrageously. "
--Mark Hunter, CSP "The Sales Hunter" author of High Profit Prospecting   

"Linda Swindling new book is a winner! I wished I had read this 30 years ago. If this is the only book you read this year, get it, read it, learn the content and reap new rewards."
--Don Hutson, Hall of Fame Speaker and Co-author of the NY Times Number One Best Seller The One Minute Entrepreneur

"Linda knows her stuff when it comes to asking outrageously. Her strategies helped one of my companies add $3 million to the bottom-line. "
--David Irons, Senior VP, Sales & Marketing at Perfection Learning Corporation

"When you're ready to stop playing safe, it's time to start asking outrageously. This book is your guide to make immediate impact in your life and business."
--Elizabeth McCormick, Former US Army Black Hawk Pilot, Motivational Speaker, and

"Author of The P.I.L.O.T. Method and the Soar 2 Success Business Series
Want to be a Rock Star and steal the show? Then read this powerful resource. Ask outrageously and make your message memorable."
--Patricia Fripp, Past-President National Speakers Association and Presentation Skills Expert

"Linda Swindling provides the flight plan to ask when it matters matter most. I highly recommend this book."
--Howard Putnam, Former CEO Southwest Airlines, Author:  The Winds of Turbulence
"Asking outrageously is one of the strategies we use to amaze our clients and build long-lasting relationships. Linda is a communication ninja and more importantly a master requester. Read this book."
--Kevin Jost, President of J & S Audio Visual

"What you've heard is true: Everything is negotiable. But first you have to ask. Linda can show you how to ask like a pro."
--John Patrick Dolan, JD, Criminal Law Specialist and Author of Negotiate Like The Pros

"Want to be influential and get your message heard? Then ask outrageous and listen. You will up your game and play to your strengths. "
--Kate Delany/NBC Syndicated Talk Host/Speaker

"Ask Outrageously gave me solid tactics of preparing to ask the question. More importantly, it helped me evaluate what I really wanted to ask for in the first place.  Asking feels much better than constantly wondering "what if."  It's done and I can confidently wait knowing my request is out there."
--Kip Eads, CAE | Vice President, Professional Development, Professional Retail Store Maintenance Association

"Outrageously good!  If you want to Stand Out, you need to Ask Outrageously."  
--Connie Podesta, Therapist and Hall of Fame Speaker, author of Ten Ways to Stand Out from the Crowd

"When you ask people why they aren't financially successful, you often find they aren't asking themselves the hard questions. This book helps you peel back the onion to the core issue that prevents you from reaching your financial success. "
--Mitch Kramer, CFP®, CEO and Founder of Fluent Financial, Inc. and recognized by FORBES magazine as "One of the Top Wealth Managers in Texas".

 "In my professional career and personal life, I have discovered that successful people are willing to give freely of their wisdom and support.  The problem is most of us just do just do not ask.  Linda's book, Ask Outrageously, gives you the confidence, the strategies, and the tools required to comfortably ask. Read it to squarely place you on the path to success and happiness."
--Joseph Sherren, CSP, Hof, Fellow GSF, Past-President of Canada Speakers Association, and Professor at York University Business School

"The more you ask for, the more you're going to get. Ask Outrageously shows you exactly how to ask for more with confidence and strategies that work." 
--Roger Dawson, author of Secrets of Power Negotiating.

"As a successful business owner and executive speech coach  to CEOs and leaders, I know the power of questions. I love this book!! My mantra is: Be outrageous, it's the only place that isn't crowded!™"
- Mikki Williams, Speaker Hall of Fame, TEDx, award-winning speaker/Master chair, Vistage Worldwide

"It's a quick-read and a pragmatic approach to appeal to all of us to do one thing that is so easy to do and yet we don't do it enough. Just. Ask. Outrageously. Author Linda Swindling says we have to ask to know and grow; it's a life "duh" moment and such a powerful and compact piece of advice. Often, we let fear of looking silly or being embarrassed hold us back. Swindling is giving us the courage to be "smart asks."
--Linda Rutherford, Vice President & Chief Communications Officer, Southwest Airlines

"The book is a primer for both personal and professional life.  In the business world, companies are looking hard and forever for salesmen and customer service representative who will ask---and ask for exactly what they want.  Sadly, most will not and cannot do anything more than take orders from existing customers.  The education this book provides is self-help to business persons who want to increase their earning and make their customers proud."  
--Jim Eckelberger, Rear Admiral, US Navy (Ret), Chairman of the Board, Southwest Power Pool.   

"Ask outrageously? Yep. Linda is the expert on getting what she really wants. Believe me. "
--Gregg Swindling, Linda's very understanding husband of more than 25 years