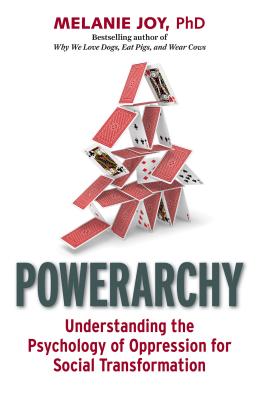 Powerarchy
Understanding the Psychology of Oppression for Social Transformation
Hardcover

* Individual store prices may vary.
Description
Harvard-educated psychologist and bestselling author Melanie Joy exposes the psychology that underlies all forms of oppression and abuse and the belief system that gives rise to this psychology—which she calls powerarchy. 

Melanie Joy had long been curious as to why people who were opposed to one or more forms of oppression—such as racism, sexism, speciesism, and so forth—often stayed mired in many others. She also wondered why people who were working toward social justice sometimes engaged in interpersonal dynamics that were unjust. Or why people who valued freedom and democracy might nevertheless vote and act against these values. Where was the disconnect?

In this thought-provoking analysis, Joy explains how we've all been deeply conditioned by the invisible system of powerarchy to believe in a hierarchy of moral worth—to view some individuals and groups as either more or less worthy of moral consideration—and to treat them accordingly. 

Powerarchy conditions us to engage in power dynamics that violate integrity and harm dignity, and it creates unjust power imbalances among social groups and between individuals. Joy describes how powerarchies—both social and interpersonal—perpetuate themselves through cognitive distortions, such as denial and justification; narratives that reinforce the belief in a hierarchy of moral worth; and privileges that are granted to some and not others. She also provides tools for transformation. 

By illuminating powerarchy and the psychology it creates, Joy helps us to work more fully toward transformation for ourselves, others, and our world.
Praise For Powerarchy: Understanding the Psychology of Oppression for Social Transformation…
"Dr. Melanie Joy is one of the most important theorists of how we rationalize cruelty. Here, she shows the way oppressive ideologies build upon each other by desensitizing us to the worth of other thinking, feeling beings. And more optimistically, she shows how we can rediscover that sensitivity and help others rediscover it as well."
—Ezra Klein, Editor-at-Large, Vox, and host of The Ezra Klein Show
 
"Powerarchy has the potential to revolutionize how we think about oppression and to empower our movements for social justice, animal rights, and environmental sustainability."
—Moby, musician, author, and activist
 
"In Powerarchy, Melanie Joy—known for her theory that helped empower the animal rights movement—brings her analysis to a new level. She provides a powerful, new unifying theory to help mobilize and unite advocates working for justice for animals, humans, and the environment alike."
—Leah Garcés, President, Mercy for Animals
 
"Powerarchy is a thought-provoking book that sheds light on the way we think about oppression and social justice."
—Marianne Williamson, speaker, activist, and author of four #1 New York Times bestselling books
Berrett-Koehler Publishers, 9781523086665, 208pp.
Publication Date: September 3, 2019
About the Author
Melanie Joy, PhD, is a psychologist, international speaker, NGO director, and organizational and relationship coach. Joy taught courses on psychology and social change at the University of Massachusetts Boston for over a decade, and she has been featured in media outlets around the world, including the BBC, NPR, and ABC Australia. She has received numerous awards, including the Ahimsa Award, previously given to the Dalai Lama and Nelson Mandela. She is the author of the award-winning Why We Love Dogs, Eat Pigs, and Wear Cows.
or
Not Currently Available for Direct Purchase