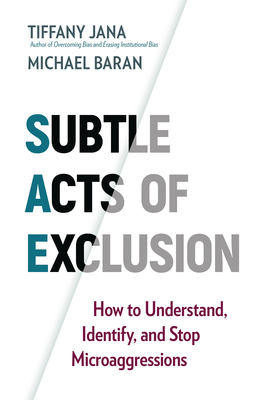 Subtle Acts of Exclusion
How to Understand, Identify, and Stop Microaggressions
Paperback

* Individual store prices may vary.
Other Editions of This Title:
Digital Audiobook (3/9/2020)
Paperback (3/10/2020)
Compact Disc (5/26/2020)
MP3 CD (5/26/2020)
Description
The first practical handbook that helps individuals and organizations recognize and prevent microaggressions so that all employees can feel a sense of belonging.

Our workplaces and society are growing more diverse, but are we supporting inclusive cultures? While overt racism, sexism, ableism, and other forms of discrimination are relatively easy to spot, we cannot neglect the subtler everyday actions that normalize exclusion. Many have heard the term microaggression, but not everyone fully understands what they are or how to recognize them and stop them from happening.

Tiffany Jana and Michael Baran offer a clearer, more accessible term, subtle acts of exclusion, or SAEs, to emphasize the purpose and effects of these actions. After all, people generally aren't trying to be aggressive--usually they're trying to say something nice, learn more about a person, be funny, or build closeness. But whether in the form of exaggerated stereotypes, backhanded compliments, unfounded assumptions, or objectification, SAE are damaging to our coworkers, friends, and acquaintances.

Jana and Baran give simple and clear tools to identify and address such acts, offering scripts and action plans for everybody involved. Knowing how to have these conversations in an open-minded, honest way will help us build trust and create stronger workplaces and healthier, happier people and communities.
Praise For Subtle Acts of Exclusion: How to Understand, Identify, and Stop Microaggressions…
"This is an unreasonable manifesto. It's unreasonable because it challenges us to take responsibility, to be kind, to dig in, and to change the invisible corners of our culture. We've got work to do. Unreasonable is precisely what we need."
—Seth Godin, author of This is Marketing

"In my work, I have seen how Black people, especially young Black women, are frequently excluded by 'well-intentioned' people. Some of the exclusions are not subtle at all, but many of them are. The subtle ones are especially insidious and pervasive and hard to fight back against. This book skillfully uses stories and research to build a deep understanding that may actually be able to take something negative and turn it into an opportunity to productively come together and create more support, trust, and equity. Now that's a feat! Jana and Baran have found a way to give shape and depth to a topic that is difficult to grasp and difficult to speak up about because of its subtlety. But more than that, they have provided a language that we can all use to actually have open and productive conversations about topics that have become incredibly divisive. I can see applications of this framework not just for work but for higher education and beyond."
—Aimee Meredith Cox, PhD, Director of Undergraduate Studies, Department of African American Studies, and Associate Professor, Departments of Anthropology and African American Studies, Yale University, and author of Shapeshifters

"Tiffany Jana and Michael Baran have provided us a powerful tool to help us learn about how subtle forms of bias can profoundly impact people's sense of belonging and their ability to perform at the highest level. Through thoughtful research and powerful examples, they have not only brilliantly articulated the problem but also offered us a pathway to a solution. Kudos!"
—Howard Ross, author of ReInventing Diversity, Everyday Bias, and Our Search for Belonging

"This book should open the floodgates for people to tell their own stories of being subtly excluded at work, with a new language that will make it so much easier to address out in the open and create teachable moments. As a little person, I have experienced so many subtle acts of exclusion over my career, whether it's people telling me I look 'cute' or having to constantly fight for respect and validity. I wish every one of my colleagues over the years had been able to read this book!"
—Becky Curran Kekula, Director, Disability Equality Index, Disability:IN
Berrett-Koehler Publishers, 9781523087051, 200pp.
Publication Date: March 10, 2020
About the Author
Dr. Tiffany Jana is the CEO of TMI Portfolio, a collection of companies working to advance inclusive workplaces. TMI Consulting, a TMI Portfolio company, is a 2018 Best for the World B Corporation. Jana is also the coauthor of Overcoming Bias and the second edition of the B Corp Handbook.

Dr. Michael Baran is a social scientist and senior partner and digital solutions lead at inQUEST Consulting. Through his writing, speaking, and facilitation, Baran brings innovation and deep understanding to wide audiences. He has taught at Harvard University and worked as a principal researcher at the American Institutes for Research.