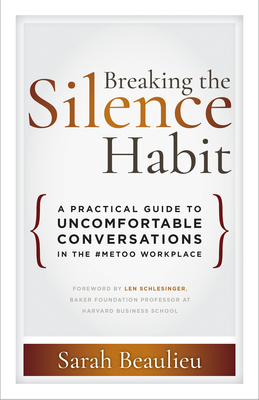 Breaking the Silence Habit
A Practical Guide to Uncomfortable Conversations in the #MeToo Workplace
Paperback

* Individual store prices may vary.
Other Editions of This Title:
Digital Audiobook (2/24/2020)
Paperback (3/9/2020)
MP3 CD (4/7/2020)
Compact Disc (4/7/2020)
Description
Top consultant Sarah Beaulieu offers a five-part framework that enables employees to have difficult but necessary conversations about sexual harassment and violence and develop new, better ways of working together.

In the wake of the #MeToo movement, employees and leaders are struggling with how to respond to the pervasiveness of sexual harassment. Most approaches simply emphasize knowing and complying with existing laws. But people need more than lists of dos and don'ts--they need to learn how to navigate this uncertain, emotionally charged terrain. Sarah Beaulieu provides a new skills-based approach to addressing sexual harassment prevention and response in the workplace, including using underdeveloped skills like empathy, situational awareness, boundary setting, and intervention.

Beaulieu outlines a five-part framework for having conversations about sexual harassment: Know the Facts; Feel Uncomfortable; Get Curious, Not Furious; See the Whole Picture; and Embrace Practical Questions. By embracing these conversations, we can break the cycle of avoidance and silence that makes our lives and workplaces feel volatile and unsafe. Grounded in storytelling, humor, and dozens of real-life scenarios, this book introduces the idea of uncomfortable conversation as the core skill required to enable everyone to bring their full talent and contributions to safe and respectful workplaces.
Praise For Breaking the Silence Habit: A Practical Guide to Uncomfortable Conversations in the #MeToo Workplace…
"Sarah is uniquely positioned to write this quintessential guide to having uncomfortable conversations in the "#MeToo" workplace. She gives us a practical framework and tools to have those important conversations. Get ready to be uncomfortable! Your family, friends, and work colleagues will thank you for it."
—Jeffrey Saviano, Global Tax Innovation Leader, MIT Connection Science Fellow, and host of the Better Innovation podcast
 
"In Breaking the Silence Habit, Sarah delivers an indispensable guide to the power of conversation in the prevention of sexual harassment in the workplace. A must-read for practitioners facing these critical issues in their own companies."
—Kate Murtagh, Chief Compliance Officer, Harvard Management Company
 
"Beaulieu has done something quite impressive with this book; she's deconstructed an incredibly complex and fraught topic to provide practical advice on how we can all have tough conversations. This book isn't just for women—or for men. It's for all who care about having a safe, inclusive culture at their organization. Beaulieu's expertise on this topic is evident in these pages. She's given us not only an inclusive, practical way to tackle sensitive topics but also a road map for changing the organizational cultures that often keep us silent. A much-needed book at the exact right time." 
—Amy Gallo, author of HBR Guide to Dealing with Conflict
 
"Sarah's is an authoritative and essential voice that will help all entrepreneurs to find theirs as they develop new ventures with new cultures. Because more than ever entrepreneurial success relies on successful teams, entrepreneurs must communicate honestly—especially about uncomfortable topics. Sarah and Breaking the Silence Habit are indispensable resources in any entrepreneurial journey."
—Danny Warshay, Executive Director, Nelson Center for Entrepreneurship, Brown University
 
"The essential workplace guide for the #MeToo era. Powerful tools for managers and employees wrestling with big, uncomfortable questions. Sarah's book will help people become happier, more fulfilled, and less anxious at work."
—Morra Aarons-Mele, founder of Women Online, bestselling author of Hiding in the Bathroom, and host of Harvard Business Review's The Anxious Achiever

"Sarah brings a practical tool kit and warm wisdom that will directly improve leaders' ability to bring out the best in their teams in the #MeToo era. A must-read for leaders."
—Rebecca Towne, CEO, Vermont Electric Company
 
"Packed full of useful tips and tools, Breaking the Silence Habit offers a fresh take on approaching sexual harassment in organizations—one that multiplies the effects of compliance-based policies."
—Toyin Ajayi, M.D., Physician and Entrepreneur
 
"In a world that dances around uncomfortable conversations, Beaulieu's book takes us right to the belly of the beast—where real change is made with courage, vulnerability, and heart." 
—Haley Hoffman Smith, author of Her Big Idea
 
"Finally, a must-read practical road map for leaders to eliminate workplace sexual harassment in the #MeToo era."
—Saul Kaplan, founder and Chief Catalyst Officer, Business Innovation Factory, and author of The Business Model Innovation Factory
 
"Our employees bring their whole self to work each day, and that includes those who have been impacted by sexual misconduct. Please help those employees find their voice and break the silence."
—Ellen Gilmore, senior human resources executive
 
"Respectfully written, grounded in best practice, and mindful not to place blame or shame, Breaking the Silence Habit transforms the reader . . . Teaching these concepts in schools today can help foster a healthier workplace for our children's future."
—Judy LoBianco, 2018 Education Week Leader to Learn From; Past-President, Society of Health and Physical Educators; and CEO, HPE Solutions, LLC
 
"Sarah Beaulieu calls us to action in a digestible way and brings clarity to a complicated and historically underdiscussed topic. A must-read for public servants grappling with how to talk about sexual misconduct with more nuance and grace."
—Bo Machayo, Chief of Staff and Chair at Large, Loudoun County (Virginia) Board of Supervisors, and former White House official
 
"If we're going to change the world, we have to be willing to change the conversation. And to do that, we must get comfortable with getting messy first. Sarah has made the messy part easier to navigate in a way that is approachable, whip-smart—and most importantly, effective."
—Jennifer Iannolo, founder of Global Innovation Incubator for Women and featured expert, US State Department
Berrett-Koehler Publishers, 9781523087402, 216pp.
Publication Date: February 25, 2020
About the Author
Sarah Beaulieu is a speaker and consultant who trains workers and advises leaders on skills-based sexual harassment prevention and response. She has been featured by multiple organizations, including Fox News, Harvard Business Review, the Associated Press, the US Chamber of Commerce, NPR, AskMen, and Boston Business Journal. In 2018, Beaulieu cofounded An Uncomfortable Conversation, a nonprofit YouTube channel that helps people engage in meaningful conversations about sexual violence through short videos.
or
Not Currently Available for Direct Purchase