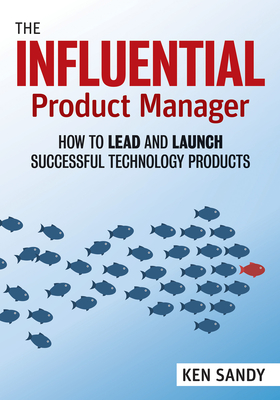 The Influential Product Manager
How to Lead and Launch Successful Technology Products
Paperback

* Individual store prices may vary.
Description
This book is a comprehensive and practical guide to the core skills, activities, and behaviors that are required of product managers in modern technology companies.

Product management is one of the fastest growing and most sought-after roles by job seekers and companies alike. The availability of trained and experienced talent can barely keep up with the accelerating demand for new and improved technology products. People from nontechnical and technical backgrounds alike are eager to master this exciting new role.

The Influential Product Manager teaches product managers how to behave at each stage of the product life cycle to achieve the best outcome for the customer. Product managers are under pressure to drive spectacular results, often without wielding much direct power or authority. If you don't know how to influence people at all levels of the organization, how will you create the best possible product?

This comprehensive entry-level textbook distills over twenty years of hard-won field experience and industry knowledge into lessons that will empower new product managers to act like pros right out of the gate. With teaching experience both from UC Berkeley and Lynda.com, the author boils down the most complex topics into principles that are easy to memorize and apply.

This book methodically documents the tools product managers everywhere use to align their teams with market needs and organizational goals. From setting priorities to capturing requirements to navigating trade-offs, this book makes it easy. Not only will your product succeed, you'll succeed, too, when you read the final chapter on advancing your career. Let your product's success become your success!
Praise For The Influential Product Manager: How to Lead and Launch Successful Technology Products…
"I wish I had this book when I was getting my start. It would have saved me a lot of trouble. The Influential Product Manager is comprehensive yet approachable and distilled. Ken Sandy's emphasis on the human side of the job is invaluable in a field where being effective requires leadership through influence."
—Isaac Silverman, Head of Rider Growth, Uber
 
"There's a lot of writing about the transactional aspects of product management: validation, user journeys, go-to-market, product economics. However, we've lacked good writing about difficult people-related product management challenges: empathy, strong cross-functional collaboration, organizational dynamics, navigating and communicating tradeoffs. This gap is now filled by Ken Sandy's The Influential Product Manager—a valuable resource for aspiring product managers as well as senior product leaders."
—Rich Mironov, startup CEO and author of The Art of Product Management

"Product managers are the nexus of innovation and vision, communication and emotional intelligence, negotiation and prioritization, all with the goal of delivering products customers love. The Influential Product Manager is the definitive guide to understanding why these attributes are so important and how they lead to better product design and development. Most important, it goes beyond business strategy to focus on how to align various stakeholders and teams, drive effective decision-making, and how to be influential and inspiring even without formal authority."
—Tanya Staples, Vice President of Product, Learning Content, LinkedIn
 
"There's a fine line between healthy influence and unhealthy manipulation. To be an effective product manager, you need to understand the difference and become a master of positive influence. In this book, Ken Sandy expertly shows you how to use this superpower for good and avoid its dark side. Read it now; your career and your team will thank you."
—John Vars, Chief Product Officer, Mixhalo, and former Chief Product Officer, TaskRabbit
 
"I wish I had this book when I started my product career ages ago. It would have saved me tons of time and heartache as I learned many of these lessons the painful way. It's an easy, succinct read and covers the core foundations that every product manager should know and master. It will be mandatory reading for our incoming associate product manager class and a worthy read for all product managers looking to hone their craft."
—Joff Redfern, Vice President of Product, Atlassian
 
"It's the instruction manual (and now my go-to desk reference) that only the most seasoned, thoughtful, honest product guru and mentor could create—guiding you through the hiccups of making truly great products and even demystifying tough topics like how to go about understanding users' needs and how to collaborate with your team while leading them too." 
—Marisa Gallagher, Head of UX and Design, Amazon Music

"This book outlines stellar frameworks and, more importantly, philosophical guidance on how Product and Engineering can build relationships, collaborate effectively, and share mutual respect. While the companies I've worked for have had a variety of cultures, ultimately the core principles around effective collaboration stay the same, and this book shines a bright light on these principles for both Product and Engineering leaders to embrace."
—Eric Bogs, Engineering Leader, Facebook, and former engineering leader, Google, Spotify, Yahoo!, Etsy, and Hinge
 
"The Influential Product Manager captures the art of product development all in one place. Ken Sandy emphasizes courage, focus, commitment, respect, and openness, which strike me as values that apply to all aspects of product development, from ideation and design to implementation and delivery to the customer. I plan on recommending this book to all my product management, engineering, and design colleagues as an excellent guide to working together to delight our customers and build great products!"
—David Zabowski, Vice President of Engineering, Nerdwallet
 
 "The Influential Product Manager is essential reading for both product managers looking to hone their craft and stakeholders who would like to improve their working relationship with a product organization. Ken Sandy packs his incredible talent for coaching and developing teams onto the page, providing the most comprehensive survey of the product discipline and tools for success that I've ever read."
—Matt Sanchez, Senior Vice President of Platforms, Hearst Magazines
 
"Ken's book is a fantastic addition to the product manager's toolbox. It's unique in that it provides a comprehensive 360-degree view into the product manager role, and it's full of practical insights that product managers can take to work right away. This is going to be an essential part of product boot camps for my team, and I recommend that all product managers in India building for the next billion users read this book to sharpen their craft."
—Rahul Ganjoo, Vice President and Head of Product, Zomato
 
"The Influential Product Manager is an in-depth playbook that's perfect for both those new to product management and those who want to have an even greater impact on product at their company. This is my new go-to resource for how to be an effective strategic partner throughout the product development life cycle."
—David Sherwin, coauthor of Turning People into Teams and author of Creative Workshop and Success by Design
 
 "Ken Sandy's book does an amazing job of breaking down complex concepts, helping product managers learn the discipline it takes to wade through the sea of data to find the signal in the noise. This book gives you tried and true, practical frameworks for solving problems as a product manager and ultimately for your customers."
—Rachel Wolan, Vice President of Product, LiveRamp
 
 "Early in your career, leadership comes not because you are the smartest but because you ask the right questions and have the tools to lead your team to the right answers. The Influential Product Manager provides a complete tool kit to help you succeed in your new role."
—Mark Cook, Vice President of Product, Trax Retail
 
"This book offers critical insight on practical product management strategies, from how to influence complex organizations and how to break down complex problems to get (the right) stuff done!"
—Daniele Farnedi, cofounder and Chief Technology Officer, Solv; former Chief Technology Officer, Trulia; and former Director of Technology, Shopping.com
 
"This valuable guide will help product managers lead their organizations and better serve their users and will help product executives uplevel their team's effectiveness and business impact."
—Brent Tworetzky, Senior Vice President of Product, InVision, and former Executive Vice President of Product, XO Group Inc.
 
"Excellent practitioner's guide for budding and experienced product managers alike. What sets this book miles apart is the way Ken draws from his experience, goes beyond theoretical advice, and provides excellent examples and pragmatic techniques to become a successful PM. This book is a must-read for every tech product manager in India."
—Sachin Arora, cofounder of Chqbook.com and former Chief Technology Officer, Myntra.com
 
 "Unlike so much literature in this field, Ken has not adopted a 'one size fits all' approach but rather has drawn on deep, practical experience to craft a coherent and pragmatic guide for product managers working on any internet-based product. The net result is that by reading this book, literally all product managers will become more effective in their organization. This will be good for them, their teams, and their company. It will result in less wasted time and fewer failed projects."
—Martin Hosking, cofounder of Redbubble
Berrett-Koehler Publishers, 9781523087464, 384pp.
Publication Date: January 14, 2020
About the Author
Ken Sandy has led teams at both fast-growth, early-stage companies (including MasterClass and Lynda.com) and larger companies attempting digital transformations. He has also worked for companies developing content and advertising platforms for independent publishers and startups creating mobile messaging and social networking solutions, and he has led business units based in the United States and China. He is an industry fellow and lecturer at the Center for Entrepreneurship and Technology at the University of California, Berkeley.
or
Not Currently Available for Direct Purchase